iTunes Library
1. iTunes Tips

2. iTunes Library

3. Backup & Recover

4. Manage iTunes Library

5. Restore iTunes

6. To iTunes

7. iTunes Transfer
It has always been a problem on how to fix your library. For this reason iMusic has provided you with several solutions. You have the option of going online and getting music for yourself. In addition to that, the iMusic software also offers download music easily.
iMusic is All-in-One Music Downloader and Management Tool.
Download music from more than 300 music sites by copying and pasting the URL.
Record unlimited music from any website for playback in your computer with just one click.
Built-in music library let you browse and preview the lattest and hottest music.
Automatically save downloaded/recorded music to library for management and easy transfer.
Identify and tag music with artist, title, album, genre, and more with the latest technology.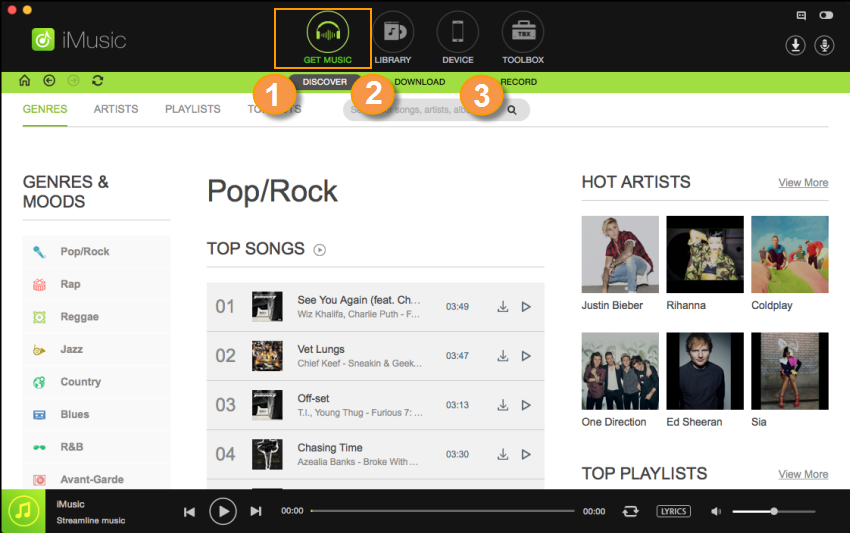 1. Find and Download Music Online
Unlike any other player, iMusic supports a wide range of musical platforms. You can easily download music from big websites such as Youtube, Vimeo and several others. Not only that tunes go will automatically convert your video into mp3 and make it easy for you to add it to your library. Not just that, you can find the complete information on the song which you downloaded, since it downloads inclusive of the information. You don't need to wait for any connection, or even the same website to play these downloaded songs. You can play these songs directly from the player. No additional nitty gritty details that you would need to follow. Simply download and enjoy.
iMusic download does not compromise on the song quality much like other software's. You get a vibrant sound with every detail not matter which website you download your music from.
Just copy the song's link and paste it here to download the music easily.
2. Record Music from Online Radio
You also have the option of recording from iMusic. While playing the music you have the option of recording it as well. Click "Get Music" > "Record".
After recording these tracks, or even anything else you would like to record, iMusic automatically creates a playlist for your recorder tracks. You don't need to get into any hassle. iMusic will simply save these for future and you can listen to them anytime you want. You will have these tracks saved in your library. Now you can play the recording music whenever you want.
3. Add Music from iPhone to iTunes Library
iMusic isn't just a solution for your regular music. You can arrange your playlists on iMusic and add it to your iPhone or iTunes library. You simply need to click on the tab which say "Device" and select "Transfer music to iTunes". But remember to connect your device to computer and launch iMusic.
If you want to save the songs to your computer "iTunes Library" and export to your computer.
4. Add Music from Android to iTunes Library
iMusic isn't just a solution for Apple products, but it has eliminated the barriers between the iOS and Android based appliances. Now you can easily use iMusic to manage your android library as well. iMusic is your one step solution to managing all sorts of playlists, no matter what device you're using. Simply connect the android device with your computer, iMusic will automatically detect it and it give you an option of whether you want to import your library. Click on that option and bring your library directly to iMusic where you may conveniently manage it.
5. Clean up iTunes Library Music
Cleaning up the library has never been easier. Forget the long and hefty processes suggested by iTunes, simply choose iMusic and manage your library. You have the option of clean up when you choose your library.
This option will bring about your playlist infront of you. And all the songs will be checked. Click "TOOLBOX" > "Clean up iTunes Library"
This brings you face to face with a number of options, you can choose from:
Fix music tags
Fix music covers
Clean missing tracks
Delete duplicate songs
6. Delete songs
You can easily delete songs by selecting them, then right click and click "Delete".