iTunes Library
1. iTunes Tips

2. iTunes Library

3. Backup & Recover

4. Manage iTunes Library

5. Restore iTunes

6. To iTunes

7. iTunes Transfer
With the rise in the number of bugs and malicious malware, people are becoming more concerned about backing up the information they have stored on their mobility devices. iPhone users in particular find it hard in making the necessary backups due to the sync mechanism that is a part of using any Apple device ranging from the laptop/desktop devices to tablets and the iPhones.
If you have been told that there is no way possible of making a backup of your itunes music, then you are certainly in luck, we are going to through 3 ways to backup itunes music, so you are no more at the risk of losing your music collection.
Part 1. Best Way to Backup iTunes Music
iMusic is a simple iTunes manager which lets you backup iTunes library easily and manage your iTunes across all of your devices without iTunes. Moreover, it helps organize your iTunes library. You can create new or edit old libraries or delete or add new songs to these libraries. This is by far one of the safest way to backup iTunes Music. This method is pretty simple and convenient. With iMusic, not only you can backup your itunes, but also there are lots of functions you can use.
iMusic is one of the best media managing music for the iPhone, iPod and the iPad.
Download music from more than 300 music sites by copying and pasting the URL.
Record unlimited music from any website for playback in your computer with just one click.
Built-in music library let you browse and preview the lattest and hottest music.
Automatically save downloaded/recorded music to library for management and easy transfer.
Identify and tag music with artist, title, album, genre, and more with the latest technology.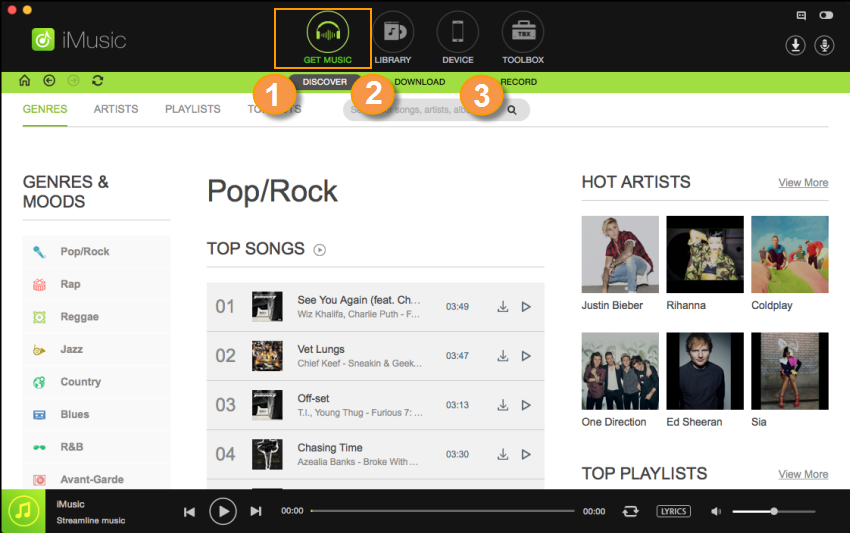 Step 1. Once you connect your Apple device to the PC, detects the phone. Click "TOOLBOX" > "Backup/Restore iTunes".
Step 2.Click "Backup" to backup your iTunes.
Part 2. Backup iTunes Music to iTunes 12
This is one of the most common ways of backing up your music and it is a very simple approach as well. Below are the steps that can help you with the process.
Step 1. Assuming you have the latest iTunes installed on your laptop/desktop computer, Open Preferences.
For Mac Users: Choose iTunes > Preferences.
For Windows Users: Choose Edit > Preferences.
Step 2. A New Window would appear, Click Advanced.
Step 3. Make sure the check box saying, "Copy files to iTunes Media folder when adding to library" is selected. This option helps in bringing all the music linked to your iTunes to one single location.
You must also want to know that after checking this option, you can delete the music from the original locations as iTunes has made its backup of the music.
Step 4. Click OK, all your music is now in one place and safe on your itunes 12.
Part 3. Backup iTunes Music to iTunes Match
If you are new to Apple or iTunes and you are not yet sure about what exactly iTunes Match is. iTunes Match is a cloud storage service, which stores all the music on the cloud storage that iTunes provides you with and it is pretty simple to achieve.
iTunes Match scans your music library for songs and checks which collection is available on the iTunes Store. Any song that is matched between the music library and iTunes store is added to the iCloud. This allows you to access your songs from anywhere and on any apple device as long as you are connected to the internet.
To Activate iTunes Match, you have to head over to the settings on your iPad/iPhone device and turn on the feature from there, as shown in the picture below.
Conclusion
You must be wondering what the major difference between the above mentioned methods is and which method is the most appropriate in your case. Backing up your music files to itunes 12 is a fairly good approach if you are sure that your Laptop/Desktop device is reliable and if you are up for the risks of software or hardware failures. Some people might find it difficult to keep their music on their local hard drives because of limited storage issues, where the second method of storing the music on iTunes Match comes into discussion. It is a better approach as compared to the first method, the only problem with this is that the quality of the music file is degraded once uploaded to the cloud and it has also been reported that most of the files from the music library are not properly transferred to the cloud because of the mismatch.
This brings us to the third method, which is the most reliable and secure way of going about your music back up. The music on the external drive and you should be no more worried about losing your music collection ever!