iTunes Library
1. iTunes Tips

2. iTunes Library

3. Backup & Recover

4. Manage iTunes Library

5. Restore iTunes

6. To iTunes

7. iTunes Transfer
Apple has always been known for its quality. It has a brand value and always surprises us with continuous innovations. However, one of the problems faced by Apple users is the problem of limited storage. You all have huge amount of important data and it is necessary for you to keep them all safe and secure. Well, there are certain ways which helps you backup itunes library and store it on cloud servers and external hard drives. Here we introduce three ways for how to backup itunes library.
Part 1. Backup iTunes Library with iTunes Match
iTunes match is one of the official subscription services by Apple which helps you to backup itunes library up to nearly around 25,000 songs to iCloud. It has an annual subscription fee for USD24.99.
Step1 Open the iTunes in your system by click on its icon. Once the iTunes opens, click on the menu icon at the top left corner. A dropdown menu appears. Scroll down and click on 'iTunes Store'.
Step 2 When you click on 'iTunes store', a new menu appears which has different options. Click on the option 'Update iTunes Match'. It starts to create the backup of your iTunes library to the iCloud.
Step 3 On doing so, it starts to create a backup of your iTunes library in the iCloud. The progress can seen in the progress bar that appears.
Step 4 Once the entire playlist has been backed up, a pop up dialog box appears asking "Are you sure you want to delete the copies of selected songs?". Click on the option 'Delete Songs'. Make sure that you don't check the option saying delete songs from iCloud else you will lose your collection permanantly.
Step 5 Once done, all the songs will be deleted. The backup of the iTunes library will be successfully created and your disk space will be free.
Part 2. Backup iTunes Library with iTunes Backup
You can also take a backup of your data through burning a CD/DVD. One of the major advantages of this process is that you can access your video/audio files anytime you want at any machine or laptop. It is an easy way to take a backup. However, it is not usually preferred mainly because of the time consuming process of burning the CD/DVD. Secondly, depending on the size of your library, the number of CDs you may require can be in hundreds. In spite of that, users do burn CDs from their ITunes library as a back-up in case the OS gets crashed.
You can follow the given steps to go about this process.
Step 1 At first you have to open the iTunes app on your main computer. Now create a playlist of the audio files you want in your CD.
To create a playlist you would have to navigate to the playlists tab at the top of the iTunes window. Click the PLUS icon on the bottom left corner, which means add. Select the option of new playlist. Rename you playlist and start dragging your songs or albums to the playlist.
Step 2 Burning the Disk. Once you are done with the aforementioned step, tap on "done," and then navigate to File and click Burn Playlist to disk.
Step 3 This will bring you face to face with a window named Burn settings. Choose your disk burner now.
Step 4 You can choose the speed which you require to burn the CD. This will determine the time which they will take in burning.
Step 5 Insert the blank CD in the disk drive. Select the option "open in iTunes," the burning has started. iTunes normally shows the progress on the top of the app window.
Part 3. Backup iTunes Library to External Hard Drives
iMusic is amazing software developed by team which helps you to backup your files, messages, contacts, media files, iTunes library etc. very easily. The steps to backup iTunes library using iMusic is show below:
iMusic is one of the best media managing music for the iPhone, iPod and the iPad.
Download music from more than 300 music sites by copying and pasting the URL.
Record unlimited music from any website for playback in your computer with just one click.
Built-in music library let you browse and preview the lattest and hottest music.
Automatically save downloaded/recorded music to library for management and easy transfer.
Identify and tag music with artist, title, album, genre, and more with the latest technology.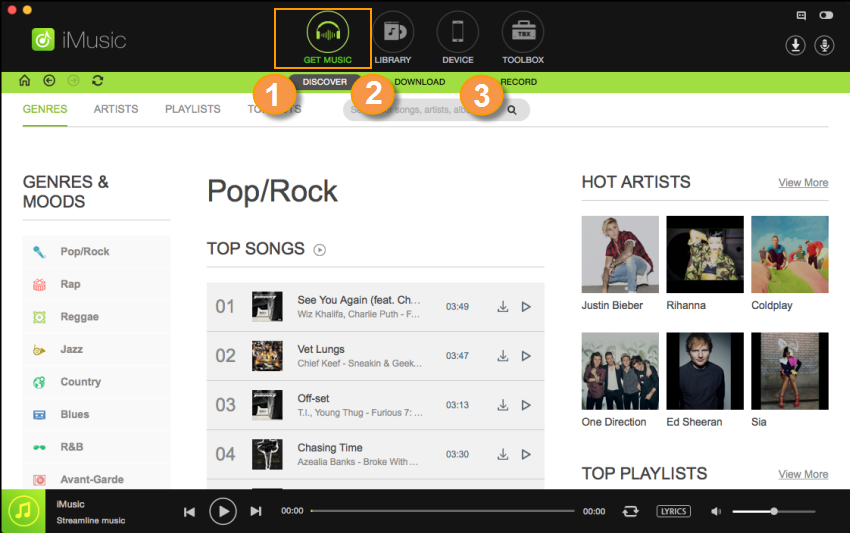 Step 1 Open the iMusic software on your system by click on its icon. Once you open the software, now connect your iOS device to your system using the USB cable. It will take some time to detect your device. Once detected, your device will be shown on the screen.
Also connect your external hard drive to your computer with the help of USB cable.
Step 2 Now, click on the 'iTunes Library' on the top of the screen. Select music you want to transfer to hard drive. And "Export to computer" > find your hard drive in the poped up window.
You can also click "Transfer iTunes to Device" which will also let you backup iTunes liabrary to your hard drive.
Part 4. Choose the best way to back up your iTunes Library
| Method | Ease of use | Price | Data backed up | Viewable |
| --- | --- | --- | --- | --- |
| iTunes Match | Very easy to use but requires Wi-Fi connection | 24.99 $ annual subscription | Entire iTunes library | Viewable on iCloud |
| iTunes Backup | Easy to use but require external DVDs | Depends on the number of DVDs used | Also allows to recover Skype history from iTunes backup | Viewable on DVDs |
| iMusic | Extremely easy to use | One time investment of USD39.95 | Entire iTunes library | Viewable on external drive |
It's easy to back up your iTunes library. Choose one of these software that makes your work easier and you'll be good to go.