iTunes Library
1. iTunes Tips

2. iTunes Library

3. Backup & Recover

4. Manage iTunes Library

5. Restore iTunes

6. To iTunes

7. iTunes Transfer
Have many eBooks purchased from iTunes on your iPad, iPod touch or iPhone, and you want to transfer eBooks to iTunes (from iOS devices) for backup or sharing with friends and family? It's quite easy.All you need is iTunes.This article will show you how to transfer purchased eBooks to iTunes from iPad, iPod touch, and iPhone.It's available for audiobooks, PDF and EPUB books.In addition, you even are able to download, purchase and transfer to your iPad, iPhone, iPod touch with iTunes.
The following part is the step-by-step tutorial about Ebooks to iTunes transfer.Install and run iTunes.Then choose the detailed guide according to your aim.
iMusic is All-in-One Music Downloader and Management Tool.
Download music from more than 300 music sites by copying and pasting the URL.
Record unlimited music from any website for playback in your computer with just one click.
Built-in music library let you browse and preview the lattest and hottest music.
Automatically save downloaded/recorded music to library for management and easy transfer.
Identify and tag music with artist, title, album, genre, and more with the latest technology.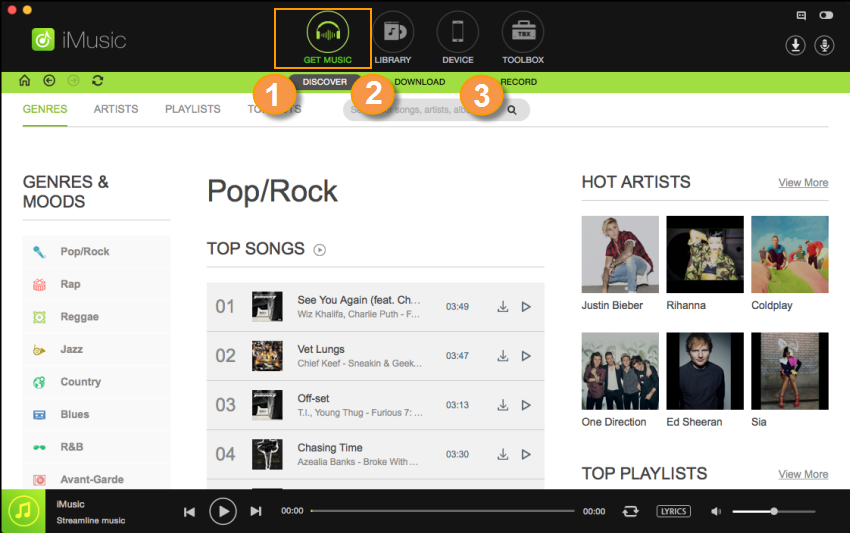 Part 1: Transfer Ebooks to iTunes
Step 1.Run iTunes and connect your iPhone/iPod touch/iPad to the computer.
Step 2.By clicking Store, you get a drop-down list from which you should click Authorize This Computer...
Step 3.This brings up a dialoh, asking you to enter the Apple ID and its password.Do it and click Authorize.
Step 4.On the left column, right click or control click your iPhone/iPod touch/iPad under DEVICES.
Step 5.In the drop-down list, select Transfer Purchases.
Step 6.Then, all purchases, Ebooks included, are synced from your iPhone, iPod touch or iPad to iTunes.Just wait until the process ends.
Note: If the purchased are bought with may Apple IDs, you need authorize the computer for all of them.Besides, you must be clear that an Apple ID can be used to authorize at most 5 computers.
Part 2: Add ebooks to iOS Devices
Step 1.In the iTunes window, click iTunes Store under Store column.
Step 2.Click Books and search the Ebooks you'd like to add to your iPhone, iPod and iPad.
Step 3.Enter your wanted Ebook and download or purchase it.
Step 4.Click your iPhone or iPad under DEVICES.Then, click Books.
Step 5.Click Sync Books and check your wanted books.Then, click Apply.
Done! You have finished to transfer Ebooks to iTunes from iOS devices successfully, and vice versa.