iPhone
1.iphone Music App

2. Device to iphone

3. Download Music on iphone

4. iphone Download Music Tips
Why won't my iPhone download music, how to fix it?
Complaints such as "my iPhone won't download music" are pretty common, and users tend to wonder what could be the problem. The following are reasons why your iPhone may fail to download music:
The problem may occur if you lose your Internet connection while downloading songs.
It could also happen when you are using a slow/poor network connection, and maybe you are trying to download a large file.
Another reason could be that the airplane mode is enabled on your iPhone and thus it may cause the song downloads to fail.
Lack of enough space in your hard disk could make the download of files to fail. If you are also downloading multiple files at the same time, they may fail to download due to their size.
Some apps used to download songs and files offer a size limit, and once you try to download a file that exceeds the limit, it will fail, and thus you need to check the size limit of your music downloader.
The iOS version could be outdated.
You can apply different methods to fix the problem of your iPhone not downloading music and here is a list of some valuable ways.
The first thing you should do is ensure that your iPhone is connected to cellular data or Wi-Fi. You can turn on Wi-Fi by going to the settings>Wi-Fi and make sure it is on. Make mobile data on by going to Settings>cellular data and turn it on.
You should also try switching from Wi-Fi to cellular data or vice versa and try again since you're the download could be inhibited by poor internet connection.
If the airplane mode is enabled, you need to turn it off. You can also solve the download problem by toggling the airplane mode. You can turn the airplane mode on for 15-20 seconds and then turn it off.
You can also restart your music downloader by closing and opening it again.
You should also navigate to your settings and turn on "set automatically" for Date & Time because the date and time settings could be the issue.
Restarting your iPhone could also fix the problem. You should turn your iPhone off and on again for the fixing.
Free up some storage space on your iPhone. If you do not have some free room, then you will not be able to download the songs.
Update the software if there is a new iOS version available.
You can also reset all settings in your iPhone by going to Settings> General>Reset> Reset all settings.
You can also restart the router by unplugging it, wait for 30 seconds and then plug it back to solve connection issues.
How to Download Music to iPhone
iMusic is a desktop app that works on Mac and Windows PC to help download music from hundreds of music sharing sites. The program also supports the transfer of the downloaded music to iOS devices and Android phones. Moreover, iMusic has an intuitive interface and supports batch download of songs. After downloading these songs you can use iMusic to backup the songs to iTunes Library. More features of the program are listed below.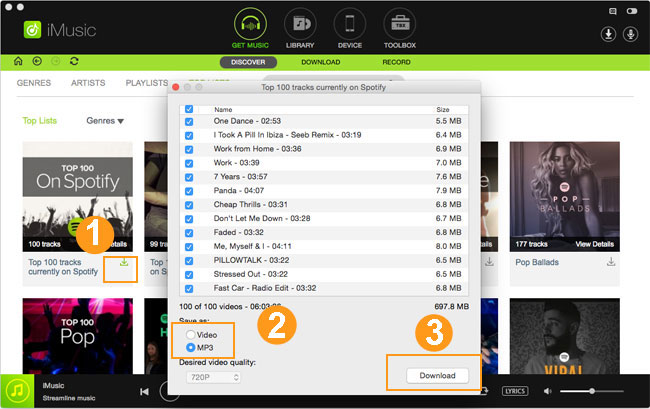 iMusic - Best Music Downloader for iPhone
iMusic has a built-in music library that lets you search and play the music by genre, artist, top list, etc.
Backup songs from iTunes, iPhone, iPad, iPod and Android devices once you buy a new computer or have lost the original music library.
It supports the transfer of music, podcasts, playlists, iTunes U, TV shows, etc. between iPad, iPod, iPhone, and iTunes library freely with no limitation to computer or device authority.
Download any song from more than 3000 sites including YouTube, Vimeo, Dailymotion, Last.FM, Pandora, Vevo, Facebook, Spotify, and many others on your PC/Mac.
Fix your iTunes library through various options such as; cleaning up the dead/broken tracks on your iTunes Library, fixing mislabeled songs, adding missing covers automatically and removing duplicate records.
It is a powerful toolbox that supports the management your iTunes Library, iPad, iPod, iPhone and Android phones. Such tools help to backup iTunes, recover iTunes Library, fix iTunes music tags and covers as well as remove music DRM protection.
Step-by-step Guide to Download Music to iPhone using iMusic:
Step 1. Launch iMusic. Run iMusic on your computer and hit the "GET MUSIC" tab on the top part of the application.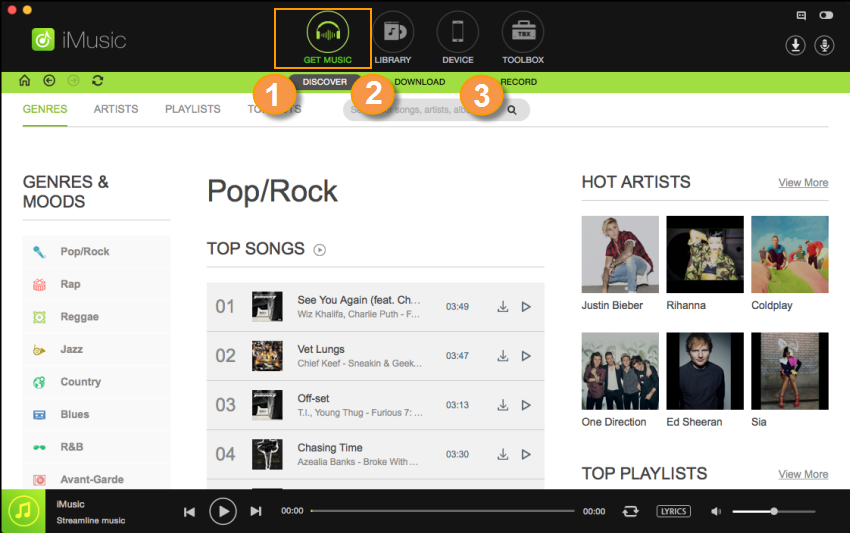 Step 2. There are two options to download music. From the "GET MUSIC" menu, click "DISCOVER." A new pop-up window will show a couple of songs, artists and top lists of songs. Type the name of the song you want to download in the search box. Once you locate the song, just click the "Download" button. Select the format supported by your iPhone in the setup window and click the download button. The songs will be downloaded and stored in your iTunes library in a few minutes.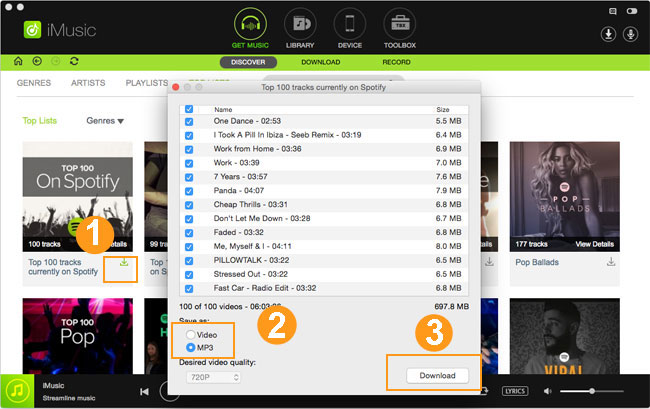 Alternatively, please hit the "Download" option. You will see a URL paste box. Open the music-sharing site like YouTube, which is the source of the music you want to download using your computer browser, and copy the URL of the song you want to download. After that, paste the URL of the song in the "Paste URL" box in iMusic. Select the format of the song you need for your iPhone and click "Download".