iPhone
1.iphone Music App

2. Device to iphone

3. Download Music on iphone

4. iphone Download Music Tips
Downloading songs to your iPhone is not just a simple task as you can imagine. In fact, with the lack of proper knowhow the whole idea could prove futile. However, a lot has been done in the software industry and is becoming super-easy to download songs on iPhone than ever. You only need to download and install an appropriate downloader app and use it download songs based on your taste.
Part 1. Free Download Songs to iPhone
iMusic song downloader program is arguably the top and most sought after media manager tool preferred by millions of users across the globe. This is due to the well integrated and perfectly working features and capabilities that makes user experience exceptional. Indeed this all-in-one tool lacks nothing a user would demand from a music downloader and manager. You can download and transfer your music songs between different devices without experiencing difficulties. If you are in the hunt for a reliable, fast, and safe music downloader then iMusic is your definite choice.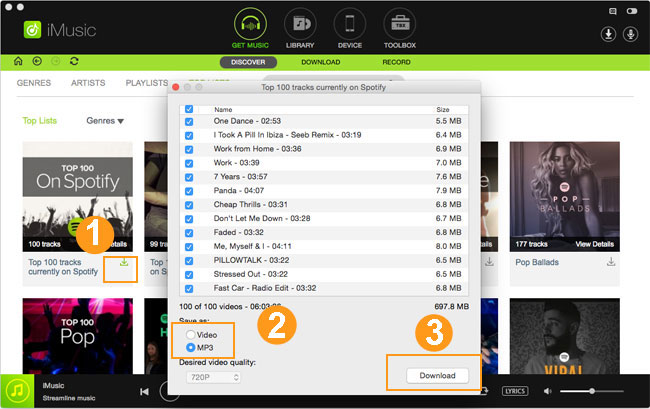 iMusic - Download Songs to iPhone from 3000+ Music Sites
Discover and Freely Download Music - iMusic features an in-built music library, which is a database for all kinds of songs including the popular hot playlists for users to stream and download.
Multiple Sites - With this music downloader, you can download music songs form more than 3000 sites either directly to your device or save them in your iTunes library as per your preference.
Record Music - This music song downloader allows users to record songs as they play if they cannot manage to download them especially when listening to radios.
Transfer Tool – iMusic enables users to transfer media files like music, playlist, TV shows, and Podcasts among others between popular devices without computer authority limitations.
Backup/Rebuild iTunes - In case you lost your original iTunes Library or purchased a new computer, this downloader allows you to easily restore or transfer iTunes library from iPhone or to computer respectively.
Fix Whole iTunes Library - with iMusic, you can easily clean up messed up tracks on your iTunes library, correct mislabeled songs, and get rid of duplicate tracks among others.
Guide on how to download songs to iPhone
Step 1. Download and run the song downloader for iPhone
If you have the iMusic downloader on your computer, just click its icon to open the primary interface. Otherwise, you will have to download and install it before launching. Under the "GET MUSIC" window, locate and click the "Download" button at the toolbar. By tapping on this button, a URL paste box shall be displayed including access to some sites.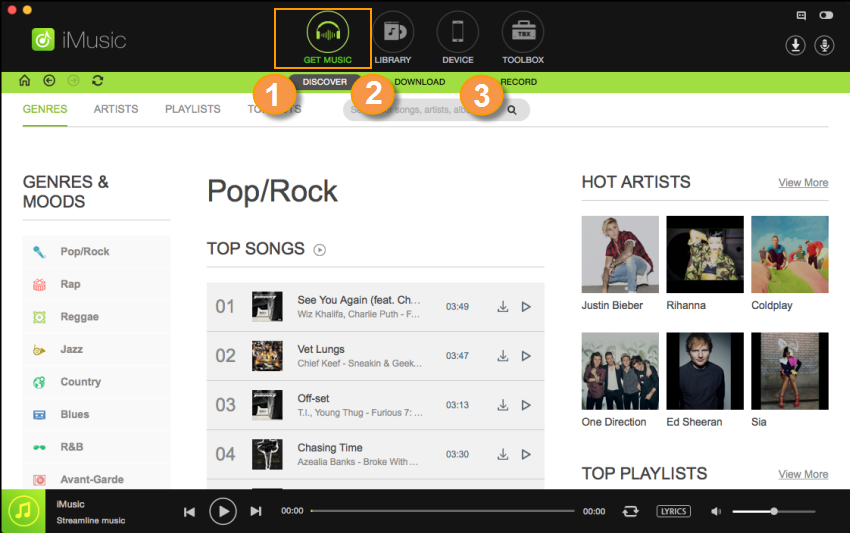 Step 2. Download any song you like to iPhone
Now, go to the site where you would like to download your music song from such as YouTube, and Spotify among others of course using a browser. Search for the respective song and once obtained, copy its URL code and go back to the program. Paste the URL you just copied from the video-sharing site to the URL paste box.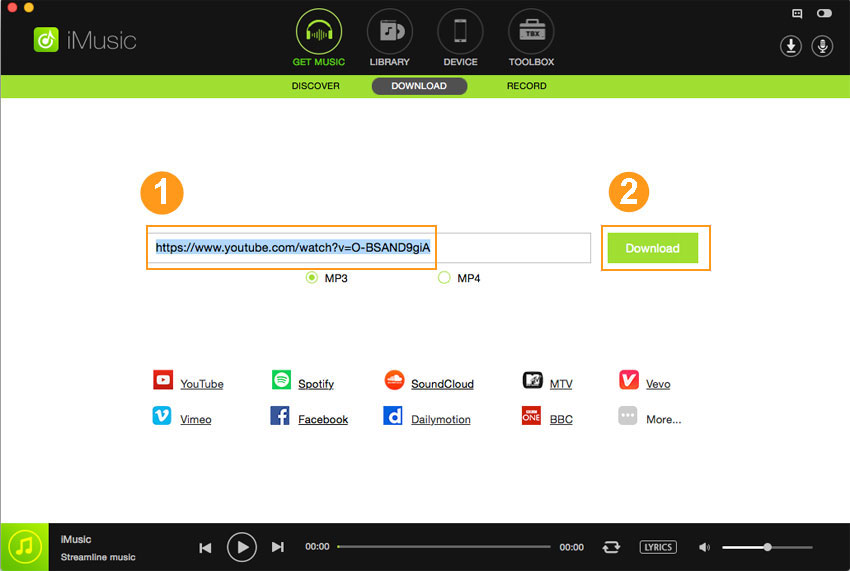 Before downloading the music song, ensure that the music format is desirable. Make the necessary adjustments if necessary and click "Download" button when satisfied.
How to transfer downloaded songs to iPhone
Step 1. Using a digital cable like USB, connect your computer and iPhone. If the connection is successful, your iPhone icon should appear in the "Device" window. Otherwise, the option would be to click "Trust" on the "Trust This Computer" window that appears on your iPhone. On the program, click "DEVICE" to get into the management window.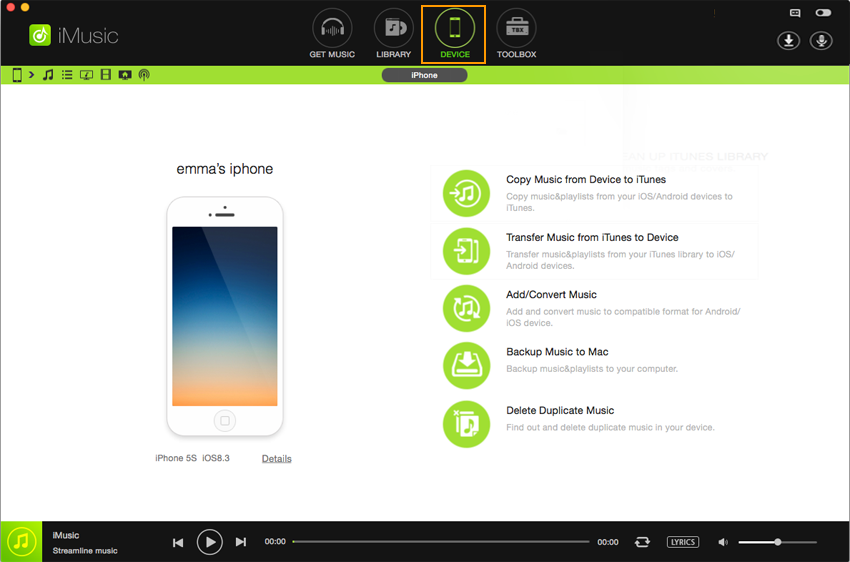 Step 2. Next, tap on the music icon to show all songs on your iPhone. Identify and click the add songs icon and subsequently on "Add File" or "Add Folder". Browse for the songs to be added to the iPhone on your PC or Mac. When you have selected the right songs, just click "Open" button to begin transferring these songs to your iPhone.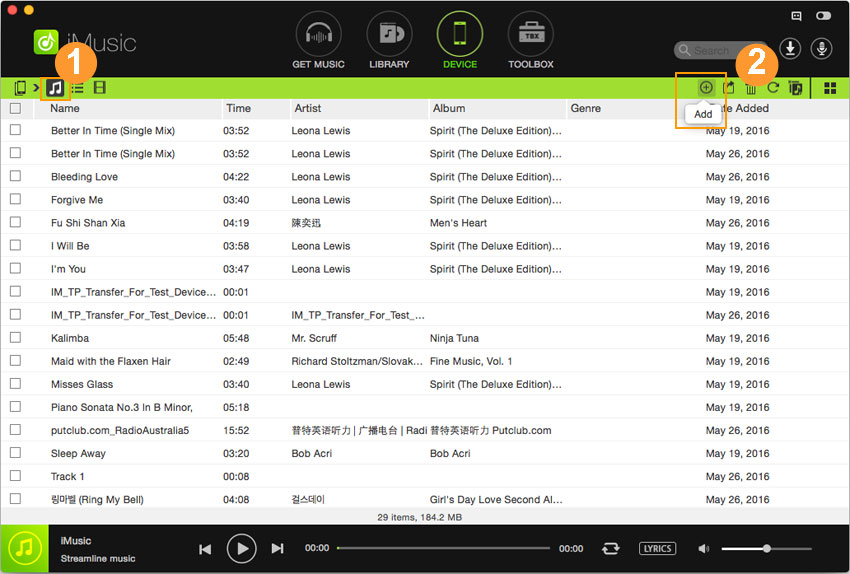 Part 2: Top 10 Popular Billboard Song Tracks Released in 2018
#1. God's Plan
Drake is the artist behind "God's Plan" song track released in early February 2018. It debuts at No. 1 on Billboard top 100. Genuinely, this hit is amazing and many fans are overwhelmed about the whole video matrix.
#2. Finesse
Finesse is one of the top latest song tracks released in January 2018. The song is by Bruno Mars and stares Cardi B.
#3. Filthy
Filthy is a new single hit by Justin Timberlake. The song was released in January 2018 and has since won the hearts of millions of fans around the globe.
#4. IDGAF
IDGAF released early January has been warmly received and featured in the top hot billboard songs. This hit by Dua Lipa is indeed smashing and fans can't stop loving it.
#5. Diplomatic Immunity
Drake is the artist behind Diplomatic Immunity and fans are rocked by the great hit. The single was released in early February but has become an instant hit not just because it's Drake but its worth.
#6. Say Something
Say Something is no doubt a real hit by Justin Timberlake featuring Chris Stapleton. The song was released in February but has been massively received by jubilant music fans across the continents.
#7. Pray For Me
The Weekend and Kendrick Lamar have shown what rapping skills can do. As expected, a collaboration between these two guys would simply produce an outstanding hit. "Pray For Me" is the hit by these two guys, which got released in February 2018 and in no time featured among top billboard song tracks of 2018.
#8. Stir Fry
Stir Fry by Migos is another 2018 top hit released in February. It has since registered many viewers and featured in top billboard 2018 song tracks.
#9. River
Released in February 14 2018, "River" by Eminem starring Ed Sheeran has gone down well with many fans and even featuring in the top 10-billboard list upon its release. At the time we wrote this article it had received over 27million views within 2 weeks.
#10. Wait
Another song that has been gracing the top billboard list is "Wait" by Maroon 5. This song was also released on February 8, 2018 on YouTube. As of writing this article it had over 24 million views on YouTube.
Part 3: Top 10 Hot Bollywood Music Tracks Released in 2018
#1. Aashiq Banaya Aapne
Aashiq Banaya Aapne is a new popular Bollywood song by Urvashi Autela. The hit is from Hat Story IV and has since registered over 6770 views after its release.
#2. Phir Se
Phir Se is a popular Bollywood album released in January 2018. The artist behind this top hit is Jet Ganguli. The album has gone viral since its release and fans have rated it at the top.
#3. Hate Story
Hate Story album is a recent release Bollywood song that has captured the Bollywood fans since its release. The album was done by Tanishk Bagchi and got released in the mid February 2018.
#4. Binte Dil(PadMaavat)
This hit was done by Arijit Singh and directed by Sanjay Leela Bhansali. The song was released in early February 2018 by T-Series. A M Turaz is the one who produced the song lyrics.
#5. Yaari Ve
Yaari Ve is yet another popular and recent release featuring Meet Bros and Prakriti Kakar. The music was directed by Meet Bros while the lyrics was done by Shabbir Ahmed. This instant hit was released by the Times Music and became a fan favorite within a short time.
#6. Nazar Lag Jayegi
This popular and latest Bollywood album staring Millind Gaba and Kamal Raja. The song lyrics was written by Ikrar and directed by Music MG. T-Series released the album in early January 2018.
#7. Dil Diyan Gayan
Dil Diyan Gayan by Atif Aslam was released in February 2018. The song from Tiger Zinda Hai album became a fan favorite upon its release and featured in top 10 Bollywood songs.
#8. Aaj Se Teri
This Bollywood song was released in early February 2018 in the Padman Album. Arijit Singh is the artist behind this amazing hit.
#9. Tum Mere Ho
This is a love song by Jubin Nautiyal and Amrita Singh that was released on February 2018. Mithoon produced the song. Since it was released it has been received well by Bollywood fans.,
#10. Subah Subah
Subah Subah from Sonu Ke Titu Ki Sweety album stares the likes of Arijit Singh, Prakriti Kakar, and Amaal Malli. This hit was also released in early February and has since been warmly received by Bollywood fans.