iPhone
1.iphone Music App

2. Device to iphone

3. Download Music on iphone

4. iphone Download Music Tips
Adding music to iPhone from your computer might sound difficult when you do not know how to add music but it is very simple. To effectively add music to iPhone you need a third party app that has the ability to transfer music from computer to iPhone. With that being said, you can add music to iPhone using iTunes or you can add music to iPhone without iTunes by using iMusic downloader.
Part 1. How to add music to iPhone without iTunes
iMusic software is a highly recommended music downloader application that you can use to add music to iPhone because it is built with a fast transfer tool. This feature allows you to transfer music from your computer to your iPhone, iPod, iPad and Android phone. Other than that you can use to transfer music from your device to iTunes Library. Moreover, iMusic software allows you to manage and organize iTunes music library. Furthermore, its user interface is sleek making it easier to navigate through easily. Other features of iMusic software are highlighted below.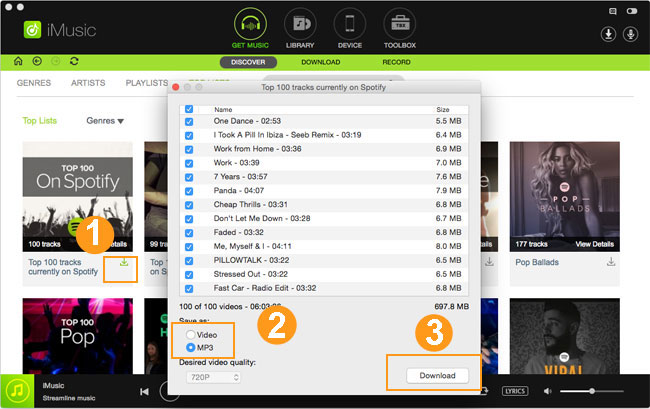 iMusic - Download and Add Music to iPhone from 3000+ Music Sites
Music Downloader - support over 3000 music sites that you can stream and download music either in MP3 or MP4 format.
Inbuilt Music Library - iMusic inbuilt library allows you to discover top songs, top playlists and songs according to artistes.
Mend iTunes Library - fix broken songs, clean broken songs, name music correctly, delete duplicates and add music covers.
Backup and Rebuild iTunes Library - rebuild iTunes library, backup iTunes Library and restore iTunes Library anytime.
iMusic Toolbox - built with a toolbox that has different features such as music converter, car playlist feature and a CD burner.
How to download and add music to iPhone in steps
Step 1. Launch iMusic downloader for iPhone
Download iMusic and install it on your computer. After that, you can open it ready to download music.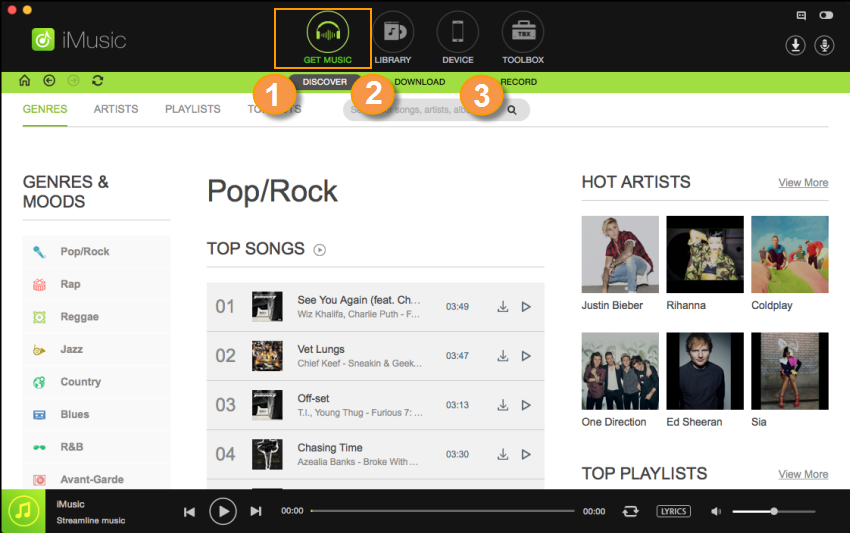 Step 2. Download preferred music to iPhone
On iMusic home screen click on "GET MUSIC" and then click on "Download" button. A new window will appear you can search for download by:
1)- Pasting the URL of the music file from your browser to the URL search box.
2)- Clicking on the desired site at the bottom such as Spotify or YouTube and search for the music.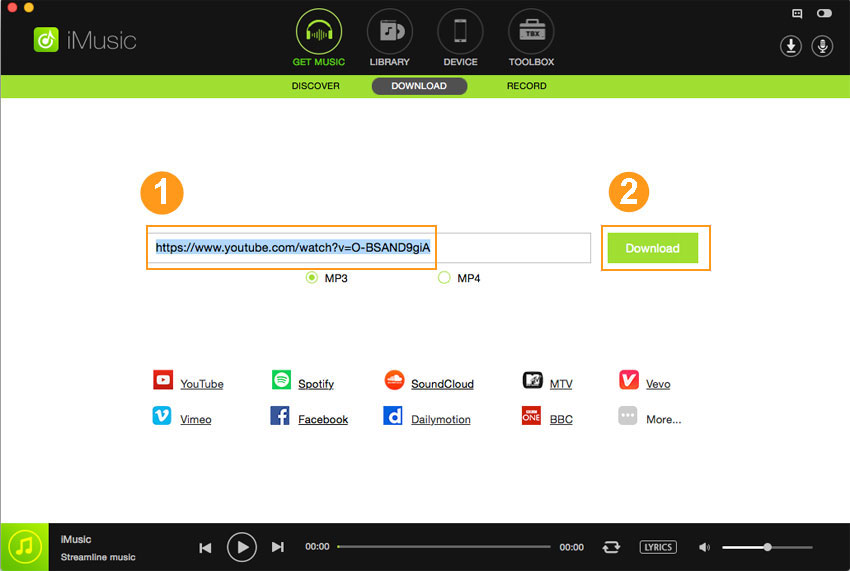 Step 3. Add downloaded music to iPhone
Assuming iMusic file is still open, you can now connect your iPhone to the computer using a USB cable. The program will detect your iPhone automatically. If not then you have to trust the computer.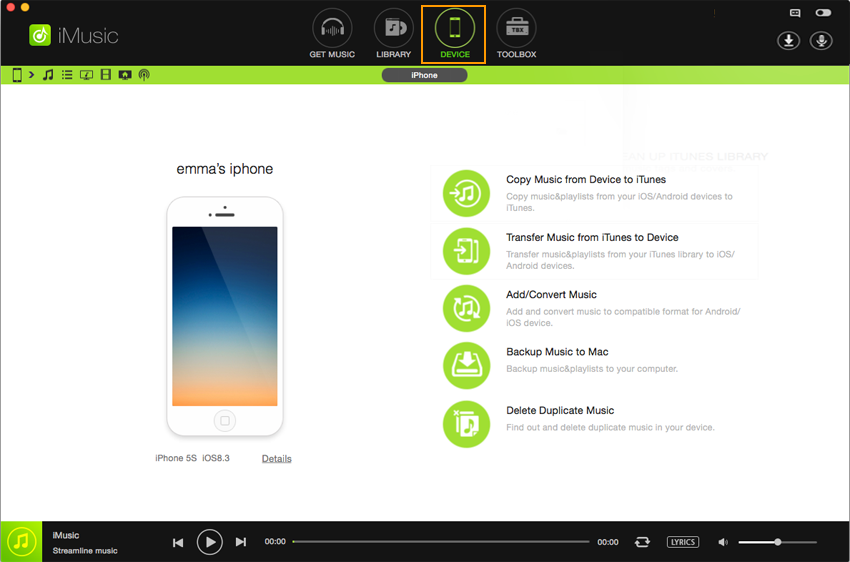 After that, click on "Device" icon. Next, you have to click on "Music" files at the top left and a list of music files will appear. Move to the top right and click on "Add" button. You can add files or add folder. You will be able to browse music from your computer. Mark the desired music files or preferred folder and open with the program. The program will then add the selected music to iPhone immediately.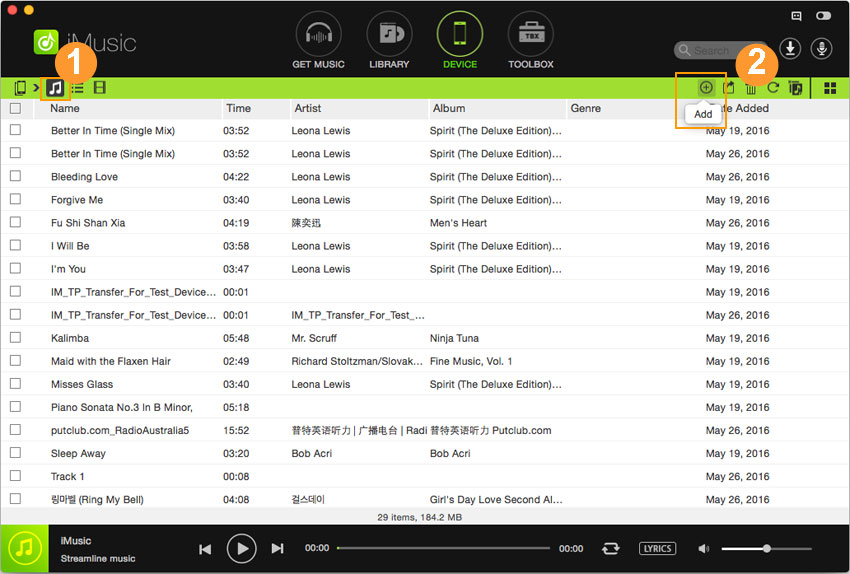 Part 2. How to add music to iPhone from iTunes
iTunes is Apple's inbuilt media player that can also be used to transfer music and manage music library. Before, you follow the steps on how to add music to iPhones using iTunes, ensure that your iTunes is up to date. You can check on updates and then follow these steps.
Step 1. Run iTunes in your Mac or PC
Open iTunes application on your computer and take the USB cable that came with your iPhone and use it to link your phone computer. Once the iTunes detects you will see it appear under devices. If you are connecting the phone to your computer you will have to "Trust the Computer".
Step 2. Select music in iTunes Library
On iTunes interface, go to the left panel and click on songs category. Next, click on "Library" category and mark on music that you want to add to your iPhone.
Step 3. Add music to iPhone
After selecting the music, drag them to your iPhone icon at the bottom left menu panel. By doing so, you will have added music to iPhone using iTunes.