Transfer Videos
1. Transfer Videos

2. Others
There's no doubt that Facebook is a of great fun for you to share everything you create or find with your friends and the people you don't even know. Among all the things you have shared, music may have occupied the largest part. Sharing and listening music on Facebook is easy, and enjoying Facebook music is very easy. Both on your computer and your mobile devices, you are able to listen to the songs you like with simple clicks. This article will show you how to listen to music on Facebook in detail. Check it out.
iMusic - Music Manager, transfer and downloader for your iOS/Android Devices
Download/Record MP3 Music Directly
Download Music & Videos from 10,000+ Sites
Transfer Music Without Device Limitation
Complete your Entire Music Library
Fix id3 Tags, Covers
Delete Duplicate Song & Remove Missing Tracks
Manage Music without iTunes Restrictions
Use iTunes with Android
Burn Music to CD easily
Backup with one click
Share Your iTunes Playlist
Convert to compatiable format automaticlly
Replace m4p files to mp3 format
The Perfect Music Downloader for iOS & Android
Solution 1. Listen to Facebook Music Through Shared Link
The easiest and most direct way to listen to music on Facebook is listening via the shared link. People will share the music files on Facebook, and after posting the music link on Facebook, you'll be able to listen to the music on Facebook. This part will show you how to do that.
How to Listen to Facebook Music
Step 1. When you are browsing Facebook Timeline, you'll see the what your friends have shared. The link is not attatched with a playback option, it is only shown as a picture with the URL to the music page.
Step 2. Now you can click the post and go to the music page, then you'll be able to listen to the music.
If You Have Liked a Music Service on Facebook
Of course you will like the music service page if you are a music fan. These music services will share music or music videos on Facebook, and you'll be able to enjoy the music easily.
a. Facebook Timeline
On the Facebook Timeline, you will be able to check recently played music statuses and this will be updated itself. Just click the play button to play the music and see more details.
b. Facebook Notification
On your Facebook wall, check the status updates on the right. If any of your friends is playing music, it will be shown there. Click on the status to see the playlist, to start a conversation one should comment there and click "Play" to start the music.
c. Facebook Chat sidebar
On your chat (of course Facebook) sidebar, there will be a music symbol updated next to your friend's name if they are listening to music at that time. This feature is currently available on Spotify and Rdio. Listening with Saavn or Myspace, you may need to wait for this feature to be available.
Solution 2. Listen to Facebook Music Through Profile
On Facebook Profile, you can also listen to music with ease. If you have found a music service, or a musician you like, then you can go to their Facebook profile, and find the music you want to listen to. This part will introduce how to do that in detail.
How to Listen to Facebook Music Through Profile
Step 1. Log in Facebook with your account.
Step 2. Find the musician's page you have liked, and enter their profile. In the left sidebar, you'll see differnet categories.
Step 3. Now you can choose Videos category in the left sidebar, as most of the musicians only share music videos. Then you can find all the music videos of the musician. Pick up one and start watching.
Part 3. Save Facebook Music to Computer for Offline Enjoyment
So, what if you want to enjoy the music on your computer when you aren't connected with Internet. At this moment, downloading Facebook music to your computer when you are online saving them for later enjoyment is the best choice. If you want to download Facebook music to your computer easily, you'll need the help of a facebook music downloader. Among all the downloader programs, iMusic will be the most helpful one for you to download Facebook music to computer. This program is used for discovering, downloading and recording music, and it enables you to get music from the music sharing sites. This part will introduce how to download Facebook music to computer in detail.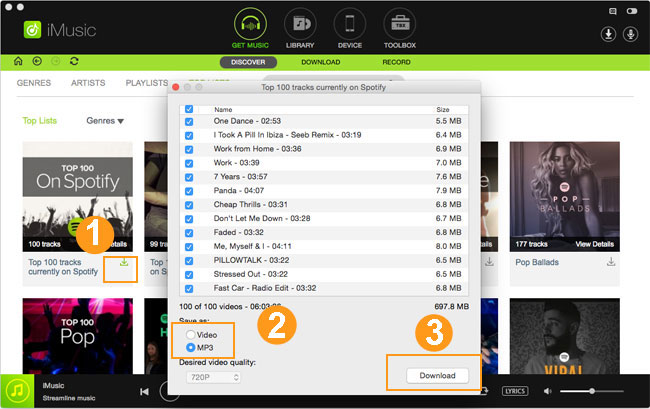 iMusic - Download, Transfer and Manage Music for Your iOS/Android Devices
YouTube as your personal music source
Supports 10000+ sites to download music and videos
Transfer music between any two devices
Use iTunes with Android
Organize entire iTunes music library
Fix ID3 tags and covers
Delete duplicate songs & remove missing tracks
Share your iTunes playlist
How to Download Facebook Music
Step 1. Start iMusic after the installation. The program will display the main interface of discovering music. Now you should choose DOWNLOAD option in the top middle.
Step 2. You have two options of copying the URL of the music file. One is that you can copy the URL of the music files in Facebook directly by right-clicking the video and choose Show Video URL; the other is that you can go to the music sharing site like YouTube, and search for the music file you need, then copy the URL in the address bar.
Step 3. After you copied the URL of the music file, iMusic will automatically detect the URL. Now choose MP3 as an output and click the Download button to start downloading music.
Step 4. When the downloading process is done, you can click ITUNES LIBRARY button at the top middle of the main interface, then select the Downloaded playlist (Down arrow icon at the upper left corner) to view the downloaded music files.
Conclusion: So that's how you can listen to Facebook music with ease. The solutions mentioned in this article are all helpful for the task, and if you want to download music from Facebook to computer for offline enjoyment, you can take advantage of iMusic to achieve your goal.