Download Music to Device
1. Download Music to Device

2. Mobile Music Downloader

3. Download Videos to MP3

4. Convert MP3

5. Alternative

6. Burn Music to CD

7. Festival Song List

8. How to Download Music

9. Download Music Tips
"Can I download Daily motion videos to MP3?"
There is no contradiction in the fact that Dailymotion has become the one of the largest video sharing services which is comprised of all type of music files, educational videos, funny and even some documentaries. It is one of the top video sharing site after YouTube. You can play your favorite track or playlist in YouTube just by clicking your target video link in the web browser. However, there is no choice to play your Dailymotion videos in MP3 format, unless and until you download and convert them to stream in your MP3 player. By this, you can listen to the MP3 tracks on MP3 Player, on your computer or any time without internet connection. Moreover, you can also transfer these tracks to your iPhone or Android Phone to listen in offline mode. One of the apt ways to download and convert Dailymotion video to MP3 on Windows or macOS is by using iMusic.
Part 1. Directly Download Dailymotion Videos to MP3 using iMusic
iMusic is a multi-platform application which is accessible for both Mac and Windows PC. You can easily download and convert any Dailymotion videos with high quality and efficiency. It comprises of a built-in web browser, that does not even require opening another web browser. You can search through the existing media library in the internet and download any music track as MP3 file format directly. iMusic is basically used to download the playlists on your computer. You need not require downloading any individual tracks or songs on your computer, as all the tracks will be downloaded automatically on your computer.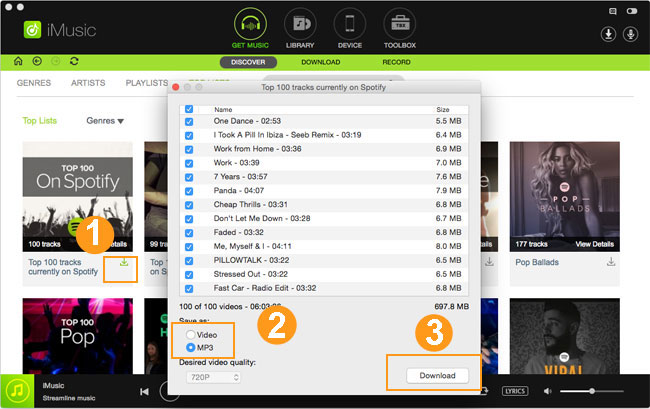 iMusic - Download Dailymotion to MP3 with Ease
Allows you to download tracks from Dailymotion and other 3000+ different websites.
Downloads audio tracks from Spotify, Apple music and other music streaming services.
Composed of smart recording feature to record tracks.
Automatically add missing ID-3 tags.
Transfer music between computer and iPhone or Android.
Burn CDs or make new playlists for car.
Step-by-step guide to download Dailymotion videos to MP3 using iMusic:
Step 1: Get iMusic
Initially, click the download button to install the latest version of iMusic on Windows or Mac OS. After clicking the download button, select the start button to initialize the installation process and follow the wizard to complete the installation process. Open the iMusic software on your computer and choose "GET MUSIC" option from the main window. Once the tab is opened, select the Download button.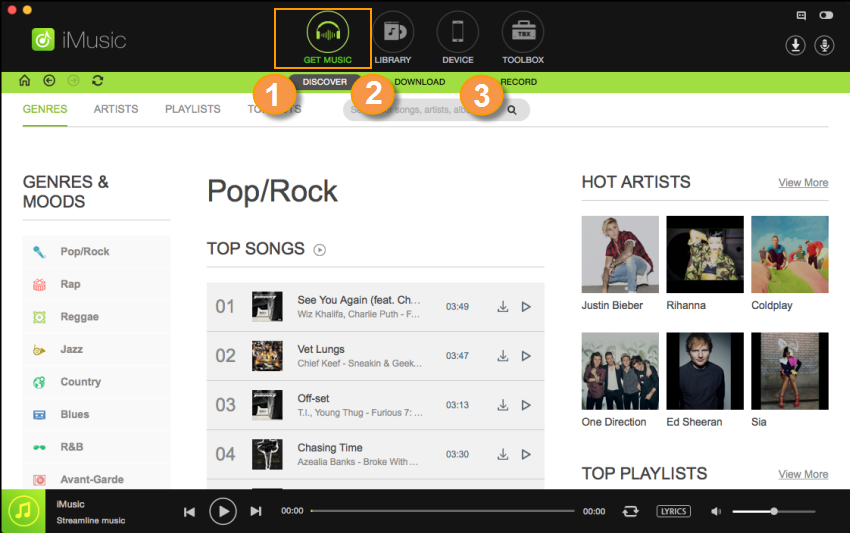 Step 2. Downloading Dailymotion videos to MP3 format
Here you will be able to recognize all the options required to download and convert Dailymotion videos to MP3 format to play on MP3 player.
If you have got the web address of the Dailymotion video, you can directly paste the link here and click on the Download button.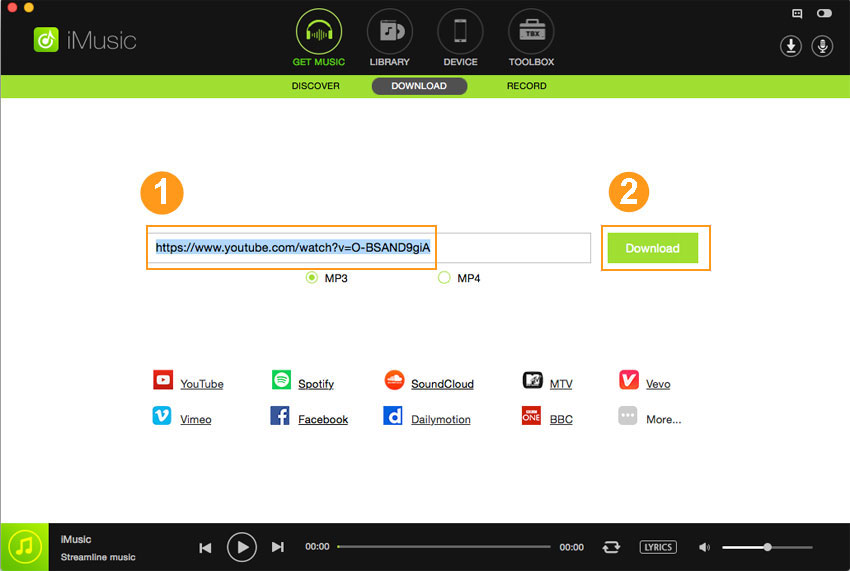 You can also search the song that you to want to download on your computer just by clicking the "Search" icon in the Download page. Open the Dailymotion Video and a new dialogue box will appear on the top of the screen. Choose the "MP3" format and edit the quality characteristics of the track and then click on the download button. It will automatically start the downloading process.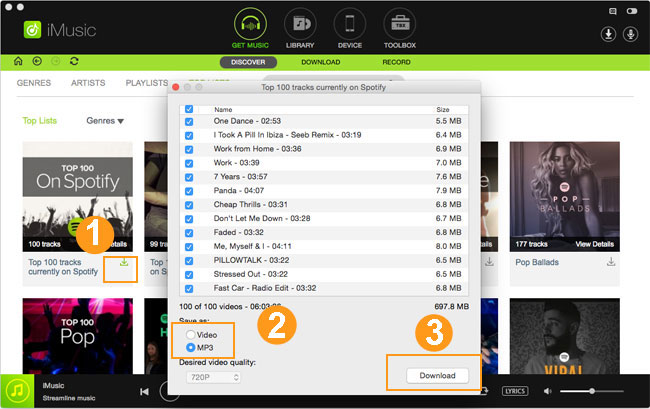 Step 3. Transfer files
Once the downloading process is completed, you will be able to see the MP3 track in your music library. To transfer the downloaded MP3 files to MP3 player, you have to check the default folder present in iMusic. Once the default folder is found, you can transfer the Dailymotion downloaded files to MP3 player on your computer.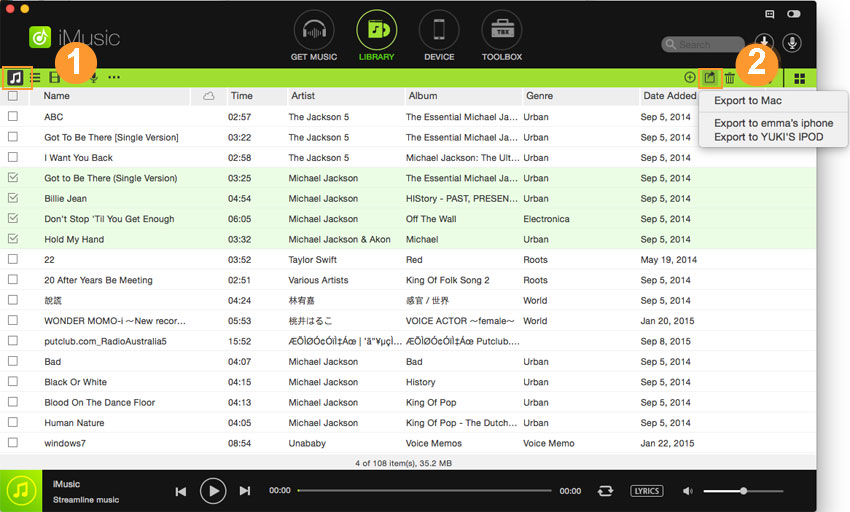 Part 2. Another Way to Download Dailymotion Video to MP3 using iTube Studio
iTube Studio application software is used to download and record original audio from Dailymotion and other sites. It plays downloaded and desktop videos with the built-in media player with ease. iTube Studio is capable of downloading and converting Dailymotion to MP3 format in high quality. It comprises of smart download button which helps you to download your favorite videos or music videos quickly and easily. You can also download your favorite videos just by using the video URL. It provides multiple resolution options for quick video downloads: 4K UHD, 4K, 1080p, 720p, 480p, 360p, etc.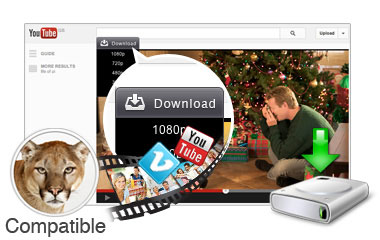 Download Dailymotion to MP3 with ease. It is capable of downloading the whole Dailymotion playlist and channel.
Quick installation of iTube Studio etension to Chrome, Safari and Firefox.
Performs batch conversion of web videos on Mac/Windows PC.
Convert videos to other video formats as you want.
Step-by-step Guide to Download Dailymotion Videos to MP3 using iTube Studio:
Step 1: Get iTube Studio
After installing iTube Studio on your PC/Mac, you can run it and find two options for downloading Dailymotion videos to MP3.
Step 2. 2 ways to download Dailymotion videos to MP3
Go to online tab and choose the video sharing service like Dailymotion, to choose your favorite track directly. After that, open the track you want to download and choose the download button in the main window. This starts the downloading process automatically.
Alternatively, you can also download Dailymotion videos to MP3 in iTube Studio by copying and pasting the URL to the program. Then iTube Studio will do the rest for you.
Once Dailymotion video download is completed, transfer the files to MP3 to play in MP3 player.
iTube Studio and iMusic are both professional & powerful application which helps you to download and record original audio/video files from Dailymotion. The final verdict is that, by using any of these two ways you can easily download daily motion videos in MP3 format efficiently.