Deezer
1. Deezer Tools

+

2. Deezer Account

+

3. Deezer Service

+

4. Deezer Tips

+
Part 1: Best way to download deezer to mp3 directly
If you are looking to download music from deezer website then really it's possible because iMusic allows you to download deezer to mp3 directly without doing so much efforts with very easy steps. You can download or record music from deezer by using wondershare directly in the mp3. This is software is the best way to download deezer to mp3 directly on your laptop without any problem to listen your favorite spotify tracks on your laptop or any other device. It is able to download whole playlist once from the deezer also. So there is no need to download deezer songs one by one separately. This software comes with a lot of other features also such as it allows you to transfer your downloaded music to any other device without any device limitation.
iMusic is one of the best media managing music for the iPhone, iPod and the iPad.
Download music from more than 300 music sites by copying and pasting the URL.
Record unlimited music from any website for playback in your computer with just one click.
Built-in music library let you browse and preview the lattest and hottest music.
Automatically save downloaded/recorded music to library for management and easy transfer.
Identify and tag music with artist, title, album, genre, and more with the latest technology.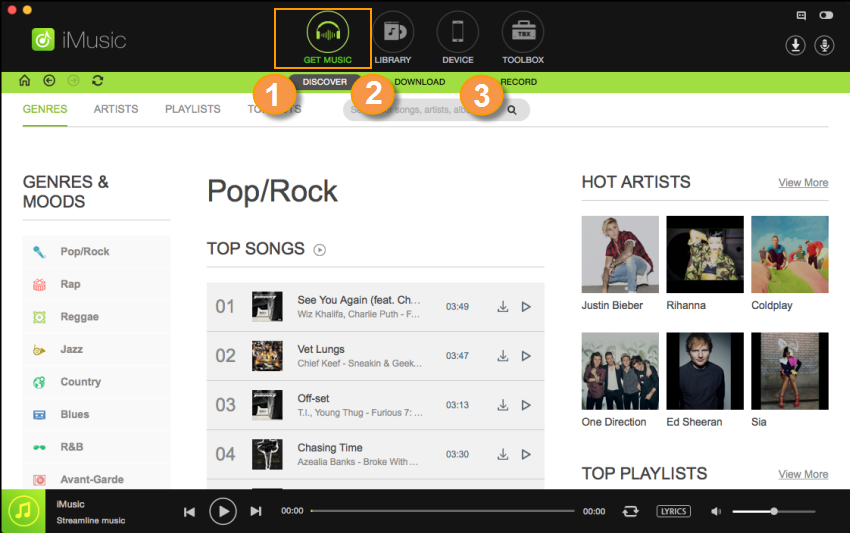 It can download music from deezer and other more than 10000+ music streaming websites.
If you don't want to download music from third party then you can discover music from the iMusic platform itself.
You can record any music from any of the website which you like.
Convert to the format which is supported by your device automatically.
It automatically fix music tags and id3 information of the song.
Automatically detect album cover of the song.
Able to delete duplicate songs automatically.
This is the only software which allow you to use android device with itunes also.
There is no limit to transfer music between devices.
You can transfer directly music from itunes to android, android to itunes or iphone to itunes by using it.
Allows you to manage your itunes library without any restrictions.
Backup your itunes library by using this software
Inbuilt professional music player to playback your songs.
Allow you to create your personal mextape CD easily in few steps.
Able to back up your itunes library.
Replace mp4 files to the mp3 automatically.
How to download deezer to MP3 easily with iMusic
After discussing properly about this software now it's a time to discuss that how you can download deezer to mp3 directly using iMusic. It has two way to download deezer to mp3: 1) Download deezer to mp3 using url; 2) Record deezer to mp3 with hight quality. Following are some steps to learn the process of recording deezer to mp3.
Step 1. To download your favorite track form deezer to mp3 you need download and install this powerful software on your sytem to download your track from deezer in mp3.
Step 2. After installing it on your system run it and open user interface of Wondersahre iMusic
Step 3. Now open deezer.com and open your account by login with your account details you can do it by using facebook id and password or by email id and password also. After login find your favorite mp3 track which you want to download and play it.
Step 4. Once your music is started playing again go back to the user interface of iMusic and go on the record tab in the get music tab. Now click on the record button which is available in the middle down of record tab to record in mp3.
Step 5. After clicking on the record button in the middle it will start recording of your music on your device. When you song is finished then again click on the record button to stop recording, and iMusic will add the music tags and cover automatically. If you want to record a lot of songs in a playlist, you don't need record them one by one, just record them at one time, iMusic will split the recorded songs automatically.
Step 6. Once you have finished recording of your mp3 song you can now find it in the music library tab of the iMusic.
Now one important thing that is after recording it will automatically add album cover information to the song and then you can transfer your song to the other device also. When you will transfer your song to other device it will automatically convert you music to the supported format of the device in which you are transferring your music.
Part 2: Record deezer to mp3 with high quality
This is also a great way to download music from deezer easily and in good quality. This software can record you deezer music in the mp3 format and in high sound quality. you can record deezer music only by using this software. Record in your system in the quality what you are listening on your computer. This software is able to filter ads and save your music only in the mp3 format. It help you to record your deezer music directly in the mp3 format and save you recorded music on any device.
Key features:
Record music from deezer and other music sharing websites.
Record music in high quality.
Record deezer music playlist in butch.
Automatically split tracks and separate audio files.
Detect ads and delete them and download music only.
Now we are going to tell you how you can download music from deezer by using this software.
Step 1. To download deezer music to mp3 with this audio recorder, you need download it for windows or mac and install it on your system. You can follow on screen instruction to install it. Now open the program and click on the record button on the left side to start it.
Step 2. Once you have started this recorder you need to visit deezer.com and login with your account details and then play any of your favorite song. After playing song this recorder will automatically start recording of your song and if you want to record whole music then click on "record" button first before playing music.
Part 3: Online way to record deezer to mp3
RecordMp3Online is a free online website to record audio to MP3. You can record audio on your mobile phone or computer. After recording, the file will be uploaded to RecordMp3Online service, then the recorded file will be converted to MP3 and be saved the MP3 file in RecordMp3Online service. You will see a download button, click it to save the recroded MP3 on your computer or mobile phone. You can also upload it to your dropbox account.
Website: http://recordmp3online.com
How to record deezer to mp3 music for free
Arrives on the website RecordMp3Online.
You will see a flash recorder, or an HTML5 button for touch devices
Open and play the deezer music that you want to record.
Click the record button on website, it will begin to record the music.
After you have finished the recording, RecordMp3Online will convert the file to MP3, after a while, you will see a download button.
Click the download button to save the recorded deezer music.
Part 4: Compare the 3 ways with a comparision table
| Function | Aimersoft iMusic | Streaming Audio Recorder | RecordMp3Online |
| --- | --- | --- | --- |
| Download music from deezer | Yes | No | No |
| Record music from deezer | Yes | Yes | Yes |
| Fix music tags and cover automatically | Yes | Yes | No |
| Convert automatically to the device supported format | Yes | No | No |
| Transfer music between any devices (ios, androind, win, mac) | Yes | No | No |
| Transfer music between devices(ios, android) and iTunes | Yes | No | No |
| Manage music library: detect and delete duplicates,remove missing/broken tracks | Yes | No | No |
| Burn music to cd | Yes | No | No |
| Backup & restore music/iTunes library | Yes | No | No |