Deezer
1. Deezer Tools

+

2. Deezer Account

+

3. Deezer Service

+

4. Deezer Tips

+
Part 1: How do i add Deezer radios to my favourites?
Sometime you face issues in adding your favorite deezer radio channel. To solve this problem we are going to tell you today that how you can do it easily in some steps. Just follow the below steps to add your favorite radio channel.
Step 1:
To add your favorite deezer radio channel open your radio channel first then click on the add button with heart sign in the front of radio channel.
Step 2
After clicking on the add button heart will become in the blue color and button text will change to Added. If color is blue like the below screenshot and the text of the add button became added then it is added to your favorite.
Part 2: Top 10 Deezer Radio Channels
1. Armada music radio:
armada music radio is a radio service which is providing music services on deezer also. If you want to get latest news, latest movies release and information about the artists etc. You can check out latest music videos and podcasts by using it on deezer and interact with social media also.
Link: http://smarturl.it/armadawwpl01
2. Stitcher Radio
Stichef radio is radio station available for you to listen your favorite comedy, news, sports and talk radio on demand. You can discover Rachel maddow, fresh air, fox, bbc, wsj, CNN, Rush Limbaugh etc. There are 15000+ shows are available and live stations are there. It helps you to find your shows automatically based on your listening history. This radio is recently brought by deezer before few months.
Link: http://app.stitcher.com/
3. Radio Nova
Radio nova is available on deezer to listen from the nova. This radio contain 56 playlist on deezer and 7 albums. It contains 1 artist in it. Radio nova has 2176 followers for the radio and it is following to the 4 people. This radio has 41209 fans worldwide.
Link: http://www.deezer.com/profile/457904161/home
4. Radio FM4
This radio has 552 followers on deezer from the all over the words. This radio also has a lot of fans. Fan following for this radio is 1354 from the different places. This radio contains only 24 tracks but all are best. Length of all track is 1 hour 38 minutes.
Link: http://www.deezer.com/playlist/454536995
5. A11 Radio Dreams 90
this radio channel contain 10 playlist in it. There are 1296 fans are available for this channel worldwide. You can listen you favorite track from here. This radio channel contain so many tracks. This channel is not available in English.
Link: http://www.deezer.com/profile/2974830
6. Best male voices
This radio is available for you from the bogata web radio station. In this radio there are 60 tracks available for you to listen. These all tracks have duration of 4 hour 5 minutes. This radio have 5884 fans all over the world.
Link: http://www.deezer.com/playlist/1161462947
7. EURODANCE 25 by FUN Radio & EDM Advisor
This radio is available from EDM advisor for plying their tracks. This radio contain europian songs. There are 70 tracks available in this radio and the duration of all track is 4 hours and 8 minutes. The fan following of this radio is very good. It has 29934 fans worldwide.
Link: http://www.deezer.com/playlist/1377701465
8. Radio Latino
This radio is available for you to listen your favorite tracks from rick- north American editor. There are 115 tracks available in this radio. Total length of all tracks is 7 hrs and 31 minutes. This radio also have very good fan following. There are 9123 fans in all over world for this radio.
Link: http://www.deezer.com/playlist/1131416703
9. Soul Funk Jazz Radio
This radio is available on deezer for you from Richard - Deutschland Editor. This radio contains 210 tracks in total and total duration of all these tracks is 16 hours and 58 minutes. But this radio is not available in English. This radio have 1923 fans worldwide.
Link: http://www.deezer.com/playlist/1473771875
10. Radio 1's Essential Ibiza (BBC)
this radio is create by BBC music. This radio have 53 tracks in the total and the total duration of all the tracks is 4 hour and 52 minutes. This radio has 3725 friends in the all over the world.
Link: http://www.deezer.com/playlist/1116492001
Part 3: How to record Deezer radio with high quality?
IMusic
Listening songs on deezer is really a great experience but it allows you to listen only if you want to listen those songs later on your devices with offline mode then it's really impossible because deezer don't allow you to download their songs for later use. If you want to download them then it is possible with the help of IMusic . It allows you to record songs in high quality as per their original quality. You can record songs in high quality with IMusic very easily in just few steps. We will tell you how to do that but before that we are going to share key features of this wonderful software.
iMusic is one of the best media managing music for the iPhone, iPod and the iPad.
Download music from more than 300 music sites by copying and pasting the URL.
Record unlimited music from any website for playback in your computer with just one click.
Built-in music library let you browse and preview the lattest and hottest music.
Automatically save downloaded/recorded music to library for management and easy transfer.
Identify and tag music with artist, title, album, genre, and more with the latest technology.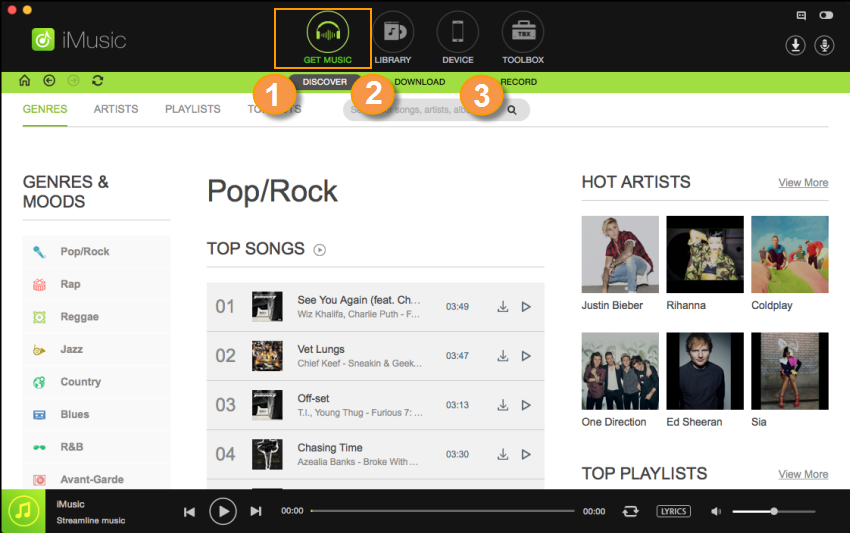 Key features:
• Able to record music from deezer and more than 10000+ website
• You will be able to discover music from the IMusic directly.
• Able to record whole playlist or a single song also.
• Convert music directly to the supported format while transferring.
• Mostly convert all recorded music to the format supported by other device.
• Available for both os mac and windows
• Able to replace mp4 files directly to mp3
• Able to use itunes with android device.
• Mange music without restricitons
• Backup your library.
• Directly transfer files from your iphone to other itunes or any device also such as android. No limit to transfer music between devices.
• Export your data to iphone or itunes directly
How to record deezer radio with IMusic
Now we are going to tell you that how you can record your favorite deezer music with the help of this beautiful software
Step 1
To record deezer radio in high quality format first of all download and run IMusic.
Step 2:
Now open deezer.com and login to your account and then go to your favorite deezer radio and the play that radio to record your radio channel by cliking on the play button.
Step 3:
Once your radio is started playing the open IMusic and click on record tab on the top and click on the record button in the record tab to start your recording.
Step 4:
Once you have clicked on start recording it will start recording of your favorite radio just like below screenshot.
Step 5
It will automatically stop after finishing of your radio. Now you can find your recorded radio in the music library option and from there you can transfer it to any other device and then automatically it will convert format of music according to your supported device.
Once you have recorded your radio track it is able add id3 tags and album information automatically to your recorded tracks.