Deezer
1. Deezer Tools

+

2. Deezer Account

+

3. Deezer Service

+

4. Deezer Tips

+
Whenever you are using deezer to listen your favorite music first then sometimes you don't know how to use it. There are so many things in the deezer which is important to know about them. You face problem just like making a playlist on the deezer or exporting deezer music to the spotify or exporting deezer playlists to the itunes. Now today we are going to discuss with you about all these questions which comes in your mind.
Part 1: How to make a playlist on deezer
In this part we are going to show you that how you can make playlists on yoru deezer account step by step.
Step 1.To create a playlist on deezer first of all you need to open your homepage of deezer after logging in your account.
Step 2.Once you have opened your home page with your credential then you need play your song and then click on the "+" button which you can find at the left bottom where song is playing. Here you can make a new playlist and add all of your songs to that playlist.
Part 2: How to export deezer playlists to spotify
Are you looking to transfer you deezer playlist to spotify music streaming playform then don't worry it really very easy to do that in just clicks. Let's discuss now how you can do this.
Step 1.To transfer you playlists from deezer to spotify you need to visit a website which is available below first and there login to your deezer and spotify account. Open it and login to your deezer and spotify accounts with your login details. To login you need to click on "connect to spotify" and "connect to deezer"
Step 2.Once you have logged in to your both account of deezer and spotify. It will looks like this and it will automatically detect all your available playlist from both websites.
Step 3.Once you are able to see your playlists then just click on the playlist you want to move to spotify and drop it in spotify. Like we will transfer "Smart radios" playlist to understand in this article. Once you have dragged it from deezer to spotify it will show you a convert button then click on it.
Step 4.Once you have clicked on the convert button it will automatically transfer you playlist to the spotify from deezer just like below image. It will show you result.
Part 3: How to download deezer playlists to mp3
iMusic
If you are looking to download your deezer playlists to the mp3 then there is a best way available for you to do that with the help of iMusic. This software is available for you to record your deezer playlist in the mp3. This software allows you to download your music from more than 10000+ websites in few steps. You can download, discover or record music with the help of iMusic. There are so many other features also available in this software. We are going to discuss them in the key features.
iMusic is one of the best media managing music for the iPhone, iPod and the iPad.
Download music from more than 300 music sites by copying and pasting the URL.
Record unlimited music from any website for playback in your computer with just one click.
Built-in music library let you browse and preview the lattest and hottest music.
Automatically save downloaded/recorded music to library for management and easy transfer.
Identify and tag music with artist, title, album, genre, and more with the latest technology.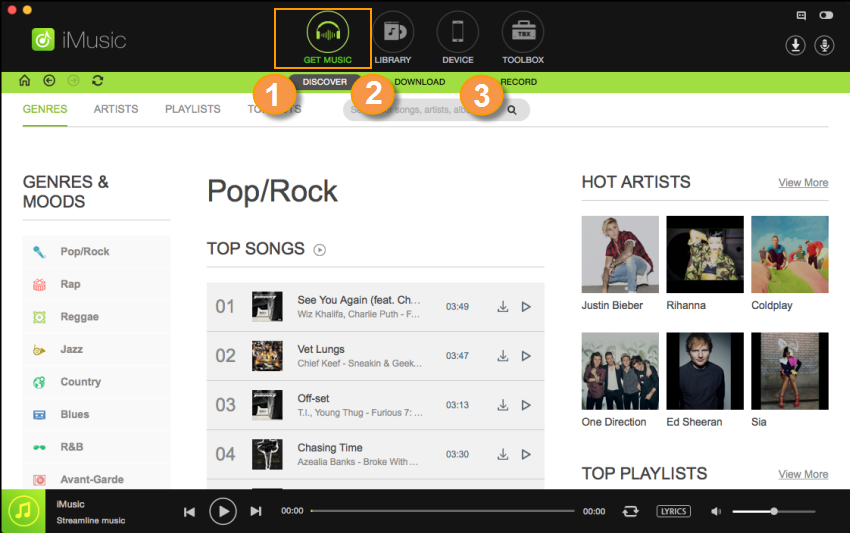 Key features:
• It allows you to download you mp3 songs from deezer.
• You can record songs from more than 10000+ websites.
• It can directly download deezer playlists.
• No need to download one by one.
• Automatically replace mp4 to mp3 format in just one click
• Able to set covers of deezer playlist after downloading.
• Professional inbuilt music player.
• Allow you to share playlist with your friends after downloading.
• You are able to discover tracks directly from iMusic platform also.
• Create custom mixtape CD without any problem.
• Not limit to transfer music between different platform devices.
• Convert downloaded songs automatically to the other formats according to the devices where you transferring.
• Download your songs in the mp3 format also.
• Transfer you music to any other devices.
• Support all devices such as iphone and android also.
• Transfer your android music to itunes.
• Automatically fix music tags and covers.
How to download deezer playlist to mp3 using iMusic
Now we are going to discuss steps by step that how you can download your music from deeezer playlist to mp3.
Step 1.To download your deezer playlist to mp3 you need to visit to the official website of wondershare and download and install iMusic from the below url and then run it.
Step 2.After running it on your system open deezer.com and then open your playlist and copy the url of your playlist.
Step 3.Once you have copied the url of your favorite playlist then again go on the iMusic and click on download tab and then paste the copied url in the url section and then click on the mp3 format. Once you have clicked on mp3 format then click on the download button. It will automatically start your downloading in the mp3 format.
Step 4.You can find you downloaded music here in the music library just like the below screenshot. Now you are able to share this music anywhere you want. You can transfer it to itunes or any other device without any limitation. When you transfer your file it will automatically convert the format of your downloaded playlist to the supported format of the other where you are transferring your file.
when you download your playlist it will automatically add cover to your music album and delete duplicate on transferring playlist to other device.
Part 4: How to export deezer playlists to itunes
Exporting of downloaded playlist directly not possible if you want to export it to itunes then you need to use wondershare tunes because this software only can transfer your files to any device without any limitation of devices.
Step 1.Once you have downloaded your playlist with the help of iMusic you can now transfer it to itunes with the help of iMusic there is no need to use any other software to transfer you music. You need to visit itunes library option in the iMusic and click on the downloaded button there. Here you can see your whole playlist.
Step 2.If you have downloaded music on your mobile phone, you can export the deezer playlists to iTunes with iMusic directly, whatever your phone is an apple phone or an android phone. Connect your phone with iMusic, open iMusic and click "DEVICE", now select the songs which you want to export to your itunes library just like below screenshot. Then right click after selecting and then move your cursor to the Export to option. Here you will see option "Export to itunes library" then click on it to export your playlist. Now it's successfully transferred to your itunes library. You can find it in your itunes library of itunes.
Part 5: How to export deezer playlists to google music
It is not possible to transfer music directly to google music with iMusic but it is possible by following these simple steps.
Step 1.Once you have downloaded you playlist using iMusic you can export deezer playlist to google music by exporting your playlist to computer. Select the playlist and Click on the right of iMusic on export button. After clicking on it you will see an option of Export to My computer
Step 2.After clicking on this button select the destination folder where you want to save it and click on ok
Step 3.Now you can find your music here just like the below screenshot. From here you can upload it to google music manually
Step 4.First you need to download google music manage and then login to your google account and open google music website from your browser and click on upload button in your account.
Step 5.Once you have clicked on your upload music you will see option of uploading songs from your computer click on it and locate the folder where you have exported it previously and then click on the continue button. Now you have successfully uploaded your playlist to your google music account and from here you can enjoy all of your music perfectly without any problem.