Deezer
1. Deezer Tools

+

2. Deezer Account

+

3. Deezer Service

+

4. Deezer Tips

+
Part 1: What do you think about deezer music?
Deezer is an music streaming service which allow user to listen their favorite songs online and to download songs on their devices for later use to listen. Deezer allow user to listen music according to the labels including warner music group, universal music and Sony on the different devices such as android, ios and windows offline and online mode. Deezer comes with 40 million tracks. It has 16 million active user worldwide and somewhere 5 milion paid subscribers of deezer streaming.
Pros:
• Deezer premium allows users to download their favorite tracks on their devices to listen later when they are not connected to the internet.
• Premium member get chances of winning tickets of artist shows.
• It contain 40 million tracks to listen
• Allow user to add their own music.
Cons:
• So many ads are there which interrupt your stations.
• Sound quality is little lower not good
• Don't allow you to listen songs in your car or tv.
Deezer Music Good Reviews:
#1
User interface of deezer is really very good I like it. This is really better than other music apps. I would like to give A++ stars.
#2
This is an awesome music application to listen and download music online and offline. I thank to the developer to create this great application.
#3
I love this music streaming application. I am happy with the service level of the deezer team they sort out problems very fast.
Music Deezer Bad Review:
#1
The problem with this app is the ads. Too many ads are there. I like spotify more than deezer it's not good as compared to the spotify. It works great during free trail but after getting full version it doesn't worked perfectly. It's not providing half price offer for students just like spotify.
#2
This app is not allowing me to listen music from my favorite articles. This is the only app in my knowledge to get songs of all artists.
#3
I am using deezer form last so many years but before few days back deezer stopped working for me where before few months it was not giving any problem.
Part 2: What do you think about deezer music player?
Deezer music player is an online music player which allows you to listen music online. There are so many music player available the deezer is the only music player which comes with a lot of features and allow you to listen more than 40 million songs for free. Deezer music player gives you an awesome song listening experience while listening. You just need to spend few dollars and you can download and use those songs for later use also to listen offline on your devices.
Pros:
• There are more than 40 million songs available for you to listen for free in the deezer.
• Deezer allows you to create your own playlists and share them with your friends.
Cons:
• Deezer is available for free but you cannot download songs on your devices to for offline listening in the trail version.
• Sometimes it crashes
Good reviews:
#1
Deezer is equal to the spotify in some things. It's really a very good apps to listen online music.
#2
Deezer music player is really an awesome player to listen music I am really very happy using it.
#3
This is really a great application to listen songs but you have to know what and where to listen.
Bad Review:
#1
You have not mentioned that this music player is country specific. I have downloaded it but no use.
#2
Not able to play music is offline mode. I have download music in the offline mode then also I can't play and open it.
#3
It's not a good music player for me and you will not able to listen songs by using it. It allows you to skip only 4 times.
Part 3: How to upload music to deezer
Deezer allows you to upload your personal music to the deezer playlist. You can upload your own music from your computer to the deezer for free. So you can access all your music files at one place and access from anywhere anytime. To upload your mp3 music you need follow the following steps.
Step 1. First of all go on a computer and open deezer.com and then login to your account with your account details.
Step 2. After logging in on the deezer go on your profile page and then click on "my mp3's"
Step 3. After clicking there you will this page. You can drag and drop the music files here which you want to upload.
If you want to upload your mp3 files from your mobile the sorry it is not possible to do that with mobile.
Part 4: How to save music from deezer (iMusic)
iMusic is a best available software to save deezer.com music. You can save music by using tunes from deezer and more than 10000+ other websites also. If comes with a lot of tracks and you can convert those tracks to the other supported formats according to your other devices. Usually iMusic automatically convert your according to the supported format of your device when you transfer music from iMusic to other devices. You can get your music by 3 ways by using it. There are a lot of things in iMusic. It works with both ios and android devices also. So, how cool is that to use this software.
iMusic is one of the best media managing music for the iPhone, iPod and the iPad.
Download music from more than 300 music sites by copying and pasting the URL.
Record unlimited music from any website for playback in your computer with just one click.
Built-in music library let you browse and preview the lattest and hottest music.
Automatically save downloaded/recorded music to library for management and easy transfer.
Identify and tag music with artist, title, album, genre, and more with the latest technology.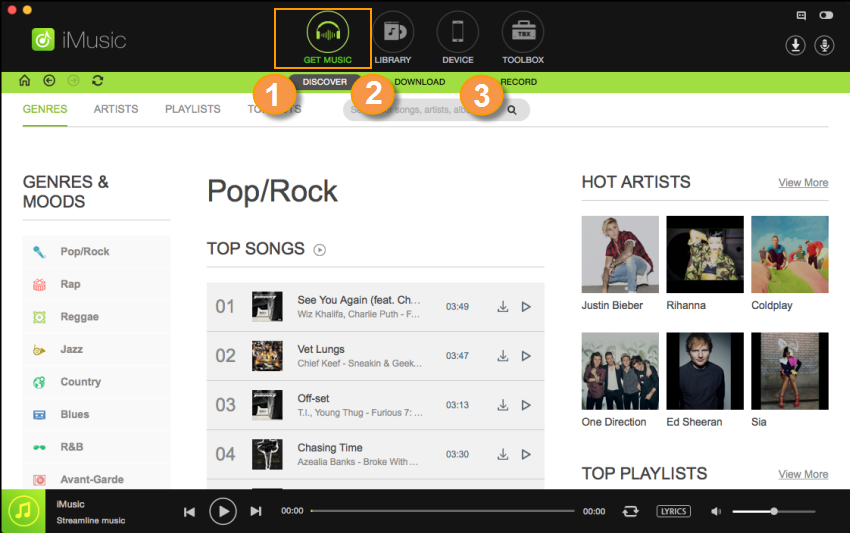 Key features:
• Get your favorite musics on iMusic music platform
• Download music from deezer or other 10,000+ websites
• Record any music from deezer or other online sites.
• Automatically convert downloaded music to other formats according to your devices.
• Fix music tags and album cover automatically
• Great download speed
• Allows to you to manage your music without iTunes
• Transfer music among apple devices, android phone, pc, mac and iTunes without any limits
• Use iTunes with Android phone.
How to save music from deezer using iMusic
You can download deezer music and record deezer music with iMusic, here show you the steps about recording way below:
Step 1. Visit the official website to download the program or download here directly.
Step 2.Now after installing and downloading this software in your computer run it then you will user interface of iMusic like the below screenshot.
Step 3. Now open deezer.com and login to your account and then play any of your favorite song to download it using iMusic.
Step 4.Once you have played your song now again go on iMusic and click on the record button from top menu and tap on record button just like the below screenshot.
Step 5. Once you have clicked on this button iMusic will start recording of your song and automatically detect song informations like music tags and album cover.
Step 6. You can find your recorded music in the music library option. Just click on it and here you can transfer this song to any other device.