Deezer
1. Deezer Tools

+

2. Deezer Account

+

3. Deezer Service

+

4. Deezer Tips

+
If you are looking to listen deezer music then you need to sign up and then login to your account but to sign in deezer you need to be in the country where deezer is opening because deezer is not available in the all countries. If you are living in the country where deezer is not available then website of deezer will open but you will see a message there that "deezer will come soon in your country" if you are looking this message then you are not able to sign up from that country.
Part 1: How to login and sign up for deezer
To login in the deezer website you need to create an account on the deezer website. So to login first of all you need a deezer account. Let's discuss it step by step how you can do it.
Sign up for deezer:
To sign up in the deezer website first of all visit www.deezer.com
There are 3 ways to create account on deezer:
1. With email address
Once you have clicked on sign up page then one page will open like the below screenshot. There you need to enter "Email Address" "Password" "Username" "Gender" and "Age" for the age section you must be more than 18 years.
2. With facebook:
Deezer allow you to create your new account with facebook also. You can create account using your facebook id and password.
• To create account with facebook click on facebook
• Once you have clicked on facebook one pop window will open and it will ask your facebook login details just enter your details there and follow on screen instructions.
3. With google+
• To create account with Google+ just click on Google+ button and then also it will open a pop up window.
• Enter Google account login details here and enjoy.
How to login to deezer:
After creating your account click on the login button on the homepage of the deezer.
After clicking on login button it will as one window will open enter your login details here which you have used while sign and enjoy the services of deezer.
Part 2: Top 5 problems about deezer login and sign up
Problem 1:
Deezer is not available in all of the countries if you want to sign up for deezer then must sign up from the country where deezer services are running. If you are from other country then you will see a message like below screenshot.
Solution:
If you want to listen deezer right now and can't wait deezer to come in your country then you can do it with the help of vpn services. There are so many vpn services available in the online world. Some are available for free and some are available for some money.
Problem 2:
Language automatically changes to franch: sometimes when you are using deezer then we don't know why but you language automatically change to French and it comes just like the below screenshot.
Solution:
To solve this problem you need to click on your Ma Musique and then Mon Compte
.
Once you have clicked on Mon compte you will see your account page. Scroll down there and go to languge and then select any language which you want to use. Like in the screenshot I am selecting English (US)
Problem 3:
Can't login to deezer via AirStudio+ app when try to login every time getting message that login details are incorrect.
Solution:
If you are using deezer on more than 1 smartphone then you need to logout from other device and then uninstall deezer from that device. Once you have uninstalled it will start working.
Problem 4:
Sometime users are getting problem in the deezer premium subscription to access deezer from iPhone 6 ios 8. It is giving error message that playlist is empty.
Solution:
to solve out this problem you need to you just force to quit AirStudio+ and log out from the deezer account and then restart your phone and then login again. Your problem will be resolved.
Problem 5:
Deezer website is not responding then how to login to listen music.
Solution:
To solve out this problem first of all you need to update your browser and then check for updates of your flash player. Try to clear your cache memory, If you are still facing issues then please try a different and new browser. Now also if problem is not resolved then check that if you have opened a lot tabs. Check your firewall of your computer that is it blocking deezer or not. Sometimes firewall cannot recognize it as a safe website. Or try to login from a different computer if you are able to login from that computer then the problem is there in your computer only, this is the final resolution which will work for sure.
Part 3: Deezer music downloader
When you are listening deezer with a free account then deezer don't allow you to download there songs on computer or mobile phone for later use. To download your favorite tracks from deezer you need software to download them. Now we are presenting great software for you to download your deezer songs without any problem in high quality music. This software name is iMusic. This software can download music from all music sharing website in original quality without any problem. If you are looking to download your favorite tracks from deezer then you can use it. You have to pay only once to buy this software then more than 10000+ music sharing sites are free for you.
iMusic is one of the best media managing music for the iPhone, iPod and the iPad.
Download music from more than 300 music sites by copying and pasting the URL.
Record unlimited music from any website for playback in your computer with just one click.
Built-in music library let you browse and preview the lattest and hottest music.
Automatically save downloaded/recorded music to library for management and easy transfer.
Identify and tag music with artist, title, album, genre, and more with the latest technology.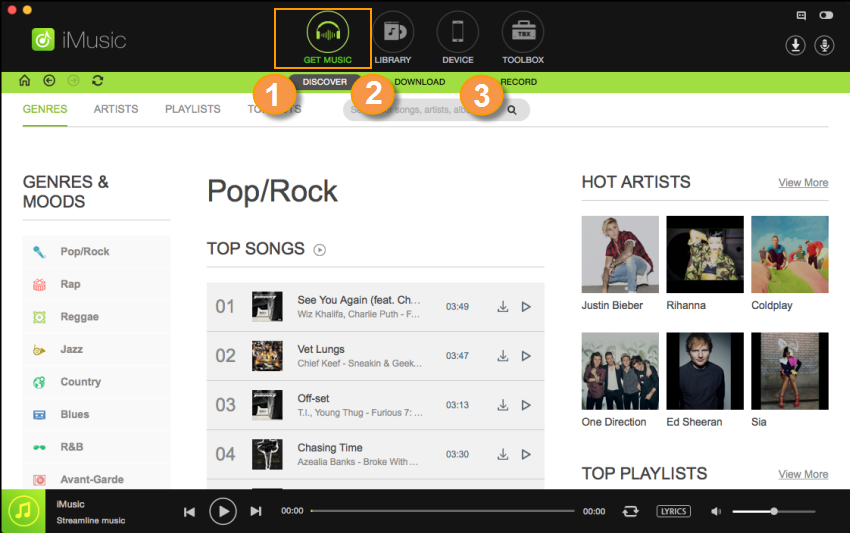 Key features:
• Able to download music from deezer in high quality as you are listening on your device.
• Including deezer it allows you to download music from more than 10000+ music streaming websites also.
• Automatically complete incomplete song information
• Able to find duplicates and delete them
• Able to download complete playlist from deezer so you don't need to record songs one by one.
• Able to replace mp4 files to mp3 format directly.
• Allow you to create your custom mixtape music CDs
• Able to use ituens with android device.
• It is a very professional music play and sharing tool also because of it's inbuilt player and sharing options.
• No limit to transfer music between devices.
• able to transfer music from any device to any other devices.
• Directly transfer music from android to ios
• Transfer music from android to itunes directly or transfer between android and ios devices also.
• Fully compatible with iOS 9 and itunes 12.2
• Allows you to get your music in by discover or by download or by recording.
• Automatically analyze and clean music library
• Delete duplicates
• Remove broken tags