Deezer
1. Deezer Tools

+

2. Deezer Account

+

3. Deezer Service

+

4. Deezer Tips

+
Deezer is an online streaming music provider website to listen unlimited songs on their website by paying some amount as a fee per month. It allows user to play their favorite songs on the website and sharing them with your friends and family. You can create your own playlist of your favorite tracks on deezer. There is a lot of record also available on deezer from Universal music group or even from sony also. There are 40 million tracks available on the deezer current for their users and deezer have somewhere 5 million paid subscriber in the all over the world where deezer services are available. Deezer is not available in all the countries. These paid subscribers were in 2013 now we can't think how many they have.
Part 1: Download deezer on different devices
Deezer is available for all types of different devices such as computer or mac, mobiles both android and ios, tablets, tv, Hifi and cars also. You can get deezer app for your device from the below the
URL
. We are going to discuss about the deezer app for different devices.
1. Deezer for PC/Mac
You can download deezer for mac from the above url. This app allows you to listen your deezer music on your mac and if you want to download then it is also possible. It comes with a very simple user interface which is easy for all users.
You can download the deezer app for windows also if you have windows computer then you can enjoy your music on your windows device also. deezer windows app can be used for all different windows devices such as tablet, phone or pc also. deezer windows is available for windows 10 and windows 8. You can get it from the official website of deezer or play store of windows.
2. Deezer on mobile and smartwatch
You can download deezer for your idevices also such as iphone, ipod touch. Deezer is available for these devices also. It allows you to enjoy your deezer tracks on your iphone, ipod devices also.
Deezer android app is available for the android users. You will be able to download it from the play store of your android device. Even you are using window 8 phone or blackberry phone then also it is available for your device. You can get it from windows store and the from the blackberry world. Even you can download it for your apple smartwatch also from the apple store or official website of deezer
3. Deezer for tablet
Deezer app is available for tablets also for all types of operating systems tablets such as windows, for ipad and for ipad mini also.
4. Deezer for TV
Deezer is available for the TV also with the name ROKU. It allows you to listen unlimited music of deezer whenever you will turn on your tv roku will connect with your tv to give you experience of unlimited music of deezer. It comes with name chromecast for android and ios devices.
Deezer review:
Deezer is online music streaming provider website after using deezer and visiting some website we found the below good and bad things about the deezer.
Good Reviews:
1. According to some users deezer is really very great just because it is available for all the platform even you can use it on your apple watch also.
2. Performance of deezer is very good and user are able to listen music in the high quality sound format. You can enjoy your songs more perfectly and in the great quality if you can upgrade to elite device through sonos speaker.
Bad review from some user:
1. Some users said that on the deezer elite services are restricted so they cannot enjoy their music with elite.
2. Sometimes app stops responding while using in the android and ios both devices. It stop working for 15-20 seconds so the company need to work on the mobile apps of deezer available for android and ios both.
Pros:
1. In this section first of all we can say about the quality of deezer sound which is really unbeatable from any other music streaming site.
2. Deezer allow a lot discounts to their users. There are so many plan available on deezer for all types of people. You can use 15 days free trial before buying anyone.
3. There is a radio channel on deezer with the name flow which is automatically created by deezer when you use deezer and play your songs. By using this feature you can enjoy your automatic playlist rather than creating by yourself.
4. When you buy any premium subscription of deezer then deezer gives gifts and give you chances of winning show tickets of your favorite artists.
5. As a premium + member of deezer you will be able to download your favorite tracks on your computer or any device to listen later also.
Cons:
1. First one and the biggest problem of the deezer is that deezer is not available in all of the countries. It is available in the selected countries only.
2. Sometimes when user are listening music on deezer than ads are really a very big problem while listening music.
3. it allows to download songs on device to the paid users only so if you are not paid then you can listen only without using any internet connection you cant enjoy deezer music.
4. Sometimes some users face issue of lower sound quality while listening and it happens to the trial user mostly
5. Sometimes you cannot listen songs on your car and TV. This is also a big issue of deezer.
Part 2: Download deezer music offline for free
Downloading music offline from deezer is also possible if you want to download it on your system to listen later on any of your device. You can do it with iMusic with high quality sound as you are listening on your computer. iMusic connect directly with your computer speaker and that's why it is able to download sound in the quality what you are listening on your computer. After downloading your music from deezer you can transfer it to any other device using iMusic. There is no limit to transfer music between devices.
iMusic is one of the best media managing music for the iPhone, iPod and the iPad.
Download music from more than 300 music sites by copying and pasting the URL.
Record unlimited music from any website for playback in your computer with just one click.
Built-in music library let you browse and preview the lattest and hottest music.
Automatically save downloaded/recorded music to library for management and easy transfer.
Identify and tag music with artist, title, album, genre, and more with the latest technology.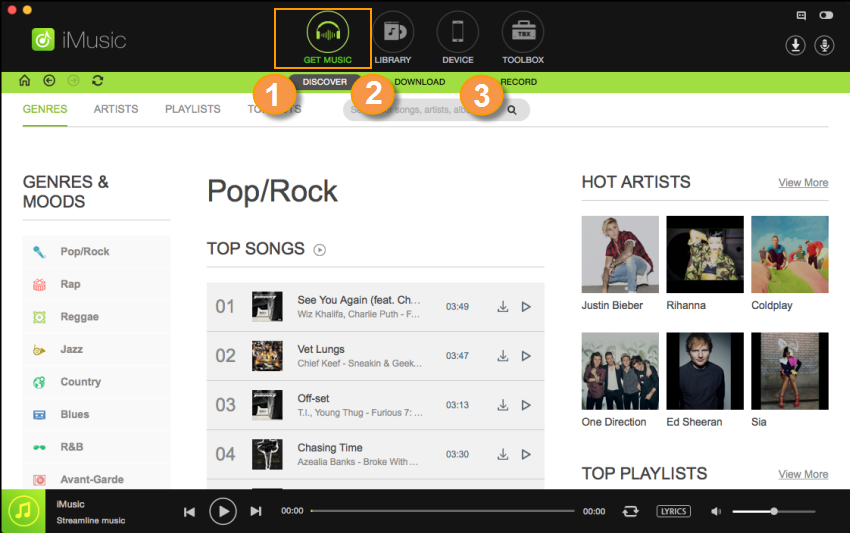 Key features:
• Download music free from 10000+ websites including deezer.
• Discover music directly from the platform of iMusic.
• Not only download and record you can record music from music sharing websites.
• Convert directly music in the mp3 format.
• Replace mp4 file in the mp3 format also.
• Able to download deezer playlist directly so no need to download songs one by one.
• Burn your music with iMusic to your cd.
• Automatically convert music to the device according to the supported format.
• It allows you to manage itunes library without any restrictions.
• This software only allows you to use itunes with android.
• Inbuilt music player allows you to playback your song after downloading.
• Transfer music to any other device without any restrictions. Directly transfer music from any device to any other device.
• Allows you to download your music offline in 2 ways.
How to download music from deezer
You can download music by using iMusic in 2 ways you can do it directly and by recording way. We will discuss both way now through this article.
Download deezer music directly:
If you want to download whole playlist from the deezer then we will recommend you to download it by pasting url in the download option of iMusic. Now let's discuss how you can do it step by step
Step 1. First of all you need to open deezer.com and then login with you credential which you have used while sign by entering your email id and password. If you don't have account on deezer then please sign and login. Once you have logged in to your account then open your favorite playlist and copy url of that playlist
Step 2. Once you have copied url of the playlist, you want to download then open user interface of tunes and paste the url in the download section of get music which is there in the middle of the interface. After pasting your url iMusic will automatically start downloading of your playlist.
Step 3. Once it has finished downloading you can find your playlist in the Music library of iMusic. Now you are able to transfer this playlist to any other device without any limitation of devices. iMusic will automatically album information, album covers after downloading and delete if any song is duplicate.
Record deezer music with high quality:
Step 1. Download and install this software on your computer, then you need to open deezer.com and login with your account details. If you don't have account on deezer then you can sign up by facebook or by email. After logging in you just need to play your song.
Step 2. Now open user interface of iMusic and click on the get music tab. In this tab you will an option of record music and then you will see a record button at middle of bottom. Click on this button now to start recording.
Step 3. After clicking on this recording button you can see that your song is started recording just like the below screenshot.
Step 4. After recording this song you can find your song in the music library of the iMusic. Now after recording you can transfer it to any other device. It will automatically transfer to supported device format while transferring.