Deezer
1. Deezer Tools

+

2. Deezer Account

+

3. Deezer Service

+

4. Deezer Tips

+
Deezer is a music streaming service which can be accessible through smartphone apps, Windows and Mac program and a web browser. It enables users to listen to tracks from various record labels like Sony, Warner Music Group, EMI and Universal Music Group on array of devices. Currently Deezer has close to thirty-five million licensed songs in its library, 30,000+ radio channels, sixteen million monthly active subscribers and five million paid users. It's available in online as well as in offline mode.
Part 1: How to create a Deezer account?
To gain access to a whopping 35 million tunes, you need to set up a Deezer account. You can easily create Deezer account through 3 different ways:
• Signing in directly through Deezer
• Using your Google+ or Facebook account
• Through your phone provider (it varies depending your location and service provider)
iMusic is one of the best media managing music for the iPhone, iPod and the iPad.
Download music from more than 300 music sites by copying and pasting the URL.
Record unlimited music from any website for playback in your computer with just one click.
Built-in music library let you browse and preview the lattest and hottest music.
Automatically save downloaded/recorded music to library for management and easy transfer.
Identify and tag music with artist, title, album, genre, and more with the latest technology.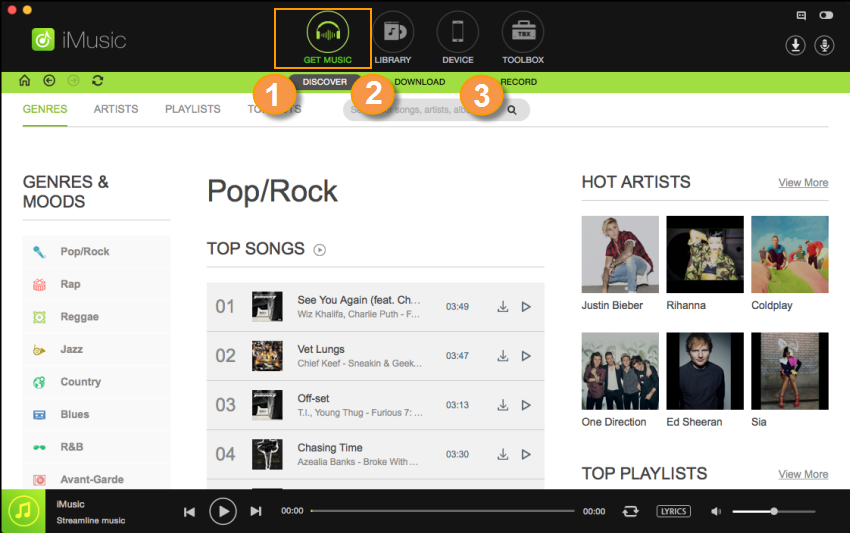 Directly through the Deezer website
Step 1 Do to the Deezer signup page with your preferred browser
Step 2 Fill your required details and select the Sign Up option to create the Deezer account
Creating a Deezer account with Google+ or Facebook
Step 1 Visit Deezer's signup page through your web browser
Step 2 Select the account by which you wish to register, Google+ or Facebook
Step 3 When asked enter your Google+ or Facebook account login information and hit the Sign Up button to create your Deezer account.
Step 4 Follow the instructions mentioned on-screen to confirm the link between Google+ or Facebook account.
Step 5 After doing above steps, you will have your Deezer account.
Create Deezer account with the help of your Mobile Provider Service
Step 1 Go the Deezer's signup page through your web browser
Step 2Find your Service provider's logo near the top right corner of the window and click it.
Step 3 Follow the instructions given and enter your cell phone number and finish the procedure
Part 2: 5 Things to Know About Deezer
1) Platforms
Deezer offers a web player for browsers like Chrome, Firefox, Safari and IE. Additionally it provides program for Windows and Mac and smartphone apps for Windows, Android, and Blackberry. Plus also apps for SmartTVs like LG and Samsung, cars like MINI, FIAT, BMW and HIFI equipment. It supports Sonos home entertainment units, Parrot systems as well as Xbox 360. Hence it can be found on all major devices.
2) Design
Designs of Deezer stay pretty consistent across all the platforms.Deezer's designs appeal modernity and sleekness. It is quite easy to find what you want. Due it is user-friendly designs and interface. Although there is nothing eye-grabbing, just simple and plain player with no gestures and animations and handful of accessories to play with. Along with clean and sophisticated lines which give a smart and neat appearance, they have added quite a few features based on designs. Like personalized welcome and greeting on launch, dislike/like one click buttons and upgraded access to various themed radio stations/channels. They have really made a good effort to stay on the same page in terms with designs across all platforms.
More features include:
• Greater personalization: a fresh look and a greeting message when logged in, is always welcoming. Plus it is contextualized with location and time-zone
• Favorites on welcome screen: Suggestions for albums, playlists, radio channels based on your music taste and preferences
• Improved interactivity: Users can like or dislike songs, this helps to refine recommendations based on algorithms
• Queue List: Quick and easy access to new queue on list pages, that display current and previous tunes, also ability to add songs for future.
3) Special Functions
Deezer has an intuitive and simple user interface without any clutter. Super responsiveness is backed by multiplatform support. You have option of listening music with Internet or in an offline mode as well. Due to its establishment in 182 countries, it is truly the only worldwide streaming music service. You have all the liberty to explore and create your own channels in Deezer. It has become so easy to stay up-to date with all the latest music trends as you can browse, find and discover the newest music. Apart from that, you can make your own playlists through Deezer and share it with your friends. In fact, you can create unlimited number of playlists. Or you wish to checkout radio based channels and playlists, Deezer has this too. You get improved sound quality [Elite tier: CD Quality (1,411 kbit/s; 16/44.1 kHz), Discovery and Premium+ tier: MP3 Quality (128 kbit/s)].
Deezer has this fun feature called Flow. So what basically flow does is, it finds you music which suits your mood. Flow already knows which songs reside in your music library, according to this, it tries to identify your music preference and give you song suggestions.
4) Pricing models
Deezer currently has 3 different pricing models.
1st is the discovery mode which is free. Although you can't have ad-free experience in this mode. Plus offline mode is not offered and you are left without car, TV, HiFi support. In this mode, you only have access to Flow feature and Artist Mix.
2nd model is Called Premium+. Priced at 9.99 €/month and $9.99/month with 15 day free trial period. In this model, music can be downloaded even offline. Plus you get unlimited skips and scrubs with ad-free music experience. It provides HiFi, TV and car support, along with Google Chromecast support.
3rd pricing model is Elite. Ranging at 14.99 €/month. Offline mode as well as TV, HiFi and car are only supported through Sonos system. However it doesn't support Chromecast. Audio quality in Elite tier is CD Quality (1,411 kbit/s; 16/44.1 kHz).
5) Quality
As far as performance and sound quality goes, Deezer gives a pretty decent sound. Only critical ears can notice that 320kbps stream have kind of hard edge while playing from a poor quality device, otherwise it will go unnoticed in maximum cases. Typically you get good details and timings. However if you are penchant for High quality sound and punchy and dynamic presentation, upgrade to Elite mode which you can hear through Sonos system. Elite and Sonos combined together offers you unparalleled music experience.