Audio Recorder
1.Audio Recorder

+
Launched by Apple Inc, in the Year 2013, iTunes Radio was an Internet radio service that allowed users to enjoy their favorite music through Music app and iTunes. The service was available only for Australia and the USA. After the release of iTunes version 12.2 and iOS version 8.4, iTunes has now become a part of Apple Music nad now called as Apple Music Radio or simply Radio.
With effect from 28th of January, 2016, iTunes Radio stations, except Beats 1 was made accessible only by Apple Music subscribers. The new Apple Music Radio is available over iTunes as well as Music app on iOS devices and Apple TV. The Radio includes following services.
Part 1. Features of Apple Music Radio
Beats 1 that allows you to enjoy your favorite music, interviews, hosts and other content. The service is available for more than 100 countries
Additional live radio stations like ESPN News, Culture, Bloomberg Radio , ESPN News and NPR News
On-demand curated stations or customized radio stations can be created through Apple Music membership. These radio stations offer interesting features like skipping
Unlimited number of songs, adding songs to Music library and do not have ads.
After learning the features of Apple Music Radio, now you may be curious about how to get access to Apple Music Radio. The following guide shows you how to do that.
1. Fist of all, in order to get access to Apple Music Radio on your PC, iOS device or Apple TV make sure that your device meets the needed requirements and you sign in with your Apple ID.
2. To access Apple Music Radio on your iPhone iPod Touch or iPad, click Music app on home page and then on bottom menu of the screen click Radio tab.
3. In order to enjoy Radio music on your PC or Mac, launch iTunes. Select Music on main interface on upper-left corner. From drop down menu, select Internet Radio option.
Part 2. How to Convert Apple Music Radio to CD
You can enjoy your favorite music through Apple Music Radio on your iOS device, PC or Mac, and you can also convert Apple Music Radio to CD so as to have a playlist of your favorite songs over CD. This part will introduce you the best ways to convert Apple Music radio to CD.
Situation 1: On Computer
One of the best solutions to convert Apple Music Radio to CD is using professional music software like iMusic. As is known, Apple Music Radio or iTunes Radio doesn't allow users to download and save on their computer, let alone burning the audio tracks to CDs. iMusic enables you to raw record all kinds of sounds playing on your computer, so it proves to be an apt choice when you are going to convert Apple Music Radio to CD. This part will introduce how to get Apple Music Radio with iMusic. And at first, let's take a look at the key features of iMusic to have a better knowledge of this program.
iMusic is All-in-One Music Downloader and Management Tool.
Download music from more than 300 music sites by copying and pasting the URL.
Record unlimited music from any website for playback in your computer with just one click.
Built-in music library let you browse and preview the lattest and hottest music.
Automatically save downloaded/recorded music to library for management and easy transfer.
Identify and tag music with artist, title, album, genre, and more with the latest technology.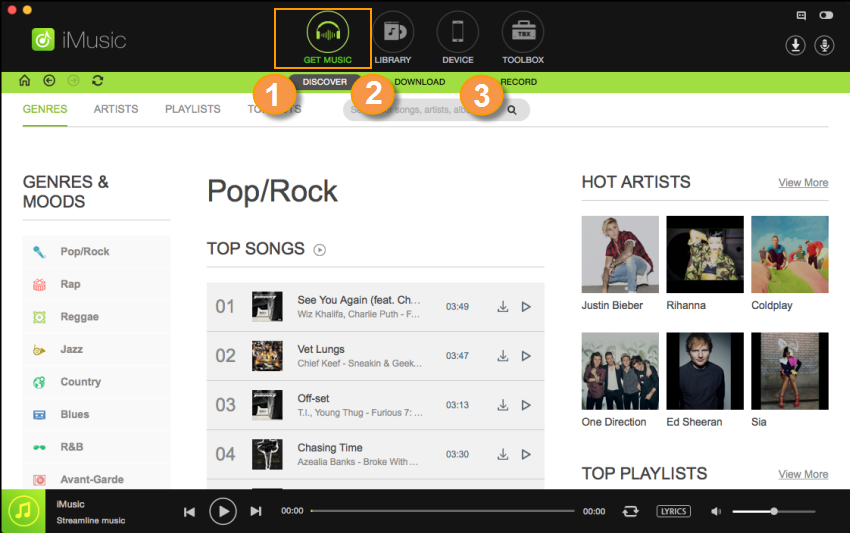 Key Features of iMusic
Allow you to download music from more than 10,000 sites, including YouTube, SoundCloud and so on.
Allow you to record music playing on the Internet, including Apple Music Radio, Spotify, Pandora, etc.
Facilitate automatic splitting of tracks and filtering ads during the downloading process.
Offer music collections of more than 300,000 songs to discover in its music library.
Help you to manage music files with useful features like removing duplicates, fixing music tags and so on.
Allow you to burn music to CD with one click.
Steps to Record Apple Music Radio Using iMusic
Step 1 Start iMusic
Download, install and launch iMusic software on your PC, then you'll see the main interface of discovering music. From there, you can find the music files directly.
Step 2 Choose Record Option
Now you'll need to choose the RECORD option at the top middle of the main interface of iMusic. Then click the Record button at bottom to get ready for recording.
Step 3 Start Recording Apple Music Radio
So now you'll need to play Apple Music Radio by choosing Radio in iTunes Music library, and iMusic will automatically record it.
Step 4 Choose BURN CD Option
When the recording process finishes, you can choose TOOLBOX option at the upper right corner of the main interface, then select the BURN CD tab at bottom.
Step 5 Burn Apple Music Radio to CD
Now the program will display the iTunes Music Library in the left side, and ask you to insert a CD in the right. Click the Microphone icon at the upper left corner to locate the recorded Apple Music Radio tracks, then drag and drop the files into the right side. After that, click Burn button to start burning the audio files to CD.
So that's how you can take advantage of iMusic to convert Apple Music Radio to CD. This program is also helpful for downloading music from the music sharing sites, such as YouTube, SoundCloud and so on, and if you want to download music files directly, you can also rely on iMusic. The fact is that most of Apple Music Radio fans are taking advantage of their iPhone or iPad to have an enjoyment. Is it possible to convert the Apple Music Radio from iPhone or iPad to CD?
If you want to conver Apple Music Radio files which are available on your mobile devices to CD, you'll need the help of AirDrop. AirDrop enables you to share your customized radio stations with your computer, so that you'll be able to enjoy the radio with iTunes, and convert it to CD with the help of iMusic like Situation 1. The following guide will show you how to share Apple Music Radio between iPhone and Mac.
After sharing the Apple Music Radio Station between iPhone and Mac computer, you can start enjoying it with iTunes. However, you'll still need to use iMusic to get the radio files to local iTunes Music Library. And if you want to burn the radio files to CD, you can take advantage of the burning feature of iTunes. The following guide will show you how to do that in detail.
How to Burn CD with iTunes
Step 1. Start iTunes and find the playlist you have recorded with iMusic in iTunes Music Library.
Step 2. Click File > Burn Playlist to CD at the upper left corner of iTunes, and set up the parameters of the burning feature.
Step 3. Click Burn at bottom to start burning the radio files to CD.
Part 3. How to Convert iTunes Internet Radio to CD
iTunes Internet Radio is a totally different thing from Apple Music Radio. The Internet radio is available as a solid category in iTunes. When you start iTunes, you can find the Internet Radio in the menu bar. After selecting iTunes Internet Radio, you'll see a list of different genres. Now select a genre and find the radio station, then start listening. If you want to get these radio files, you can turn to iMusic for help. The process is just the same as recording Apple Music Radio with the program.
Conclusion: Thus considering the above article, it can be concluded that though iTunes can be conveniently used to burn a playlist to CD but when it comes to burning Apple Music Radio, taking advantage of third-party software like iMusic is a better solution, because the software will help you to get the music files easily, and convert them to CD with easy steps. So if you are interested in iMusic, you can free download it to have a try.
iMusic - Most Excellent Spotify to MP3 Downloader
Download music from over 10,000 music and video sites.
Record music in original quality and automatically split the ads.
Discover and download music from more than 300,000 songs.
Transfer music between any two devices directly without iTunes.
Fix music library intelligently with correct ID3 tags.